Heizer Defense Sets Precedent In Design Of New Firearms For Civilian And Law Enforcement Markets
Heizer Defense will use its aerospace manufacturing facility to produce ultra-high quality, cutting-edge pistol designs with state-of-the-art materials.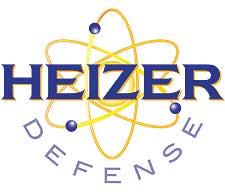 ST LOUIS, MO –-(Ammoland.com)- Heizer Defense LLC, a new firearms company located in St. Louis, Missouri, will produce a new paradigm of pistols for the responsible-citizen and law enforcement markets.
The principals behind the newly formed company bring over 190 years of firearms industry, design technology, manufacturing and aerospace engineering to Heizer Defense.
The new patent pending firearms will incorporate space-age high tensile alloys, USA manufacturing and the most current design capabilities.
Raymond B. Kohout, an entrepreneur with over 32 years in the firearms industry including ownership of the then largest retail firearms store in the St. Louis metro area and design and manufacturing of the first nylon assault rifle case and military nylon holsters, is partnering with Charles K Heizer an engineering genius who founded one of the leading Aerospace manufacturing companies in the USA.
Other members of the Heizer team bring critical knowledge and experience in mechanical engineering, design and machining of components for the commercial, military and aerospace industries.
The first product to roll off the Heizer production line will be a very unique, patent-pending Tactical Pocket Pistol. Specifics on the product will be announced in November 2011 at the NASGW Show in Reno, Nevada. The company's website will also be officially launched just prior to the NASGW show. More information on the company and the new products will be available soon.
About Heizer Defense:
Heizer Defense LLC is a firearms design, engineering and manufacturing company headquartered in St. Louis, Missouri. The facility's commitment to quality is exemplified in the multiple certifications including AS9100A:2004 Rev B. Certified, ISO 9001:2000, BQMS D6-82479 and D1-9000 AQS. www.heizerdefense.com