Jeff Nass Selected for Jay M. Littlefield Volunteer of the Year Award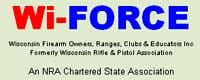 Wisconsin –-(Ammoland.com)- Jeff Nass has been selected as the recipient of NRA's Institute For legislative Action (ILA) Jay M. Littlefield Memorial Volunteer of the Year Award.
Jeff Nass, current president of Wisconsin FORCE, continually goes above and beyond all expectations of a great volunteer. Under Jeff's leadership, WI-FORCE, formally known as WRPA, (Wisconsin Rifle and Pistol Association), has gone through a complete, positive transformation to become the NRA's "boots on the ground" in Wisconsin.
Jeff has been involved with everything from the NRA's Education and Training Division's programs, Range Department issues such as RTTA assignments, to working directly with the Friends of NRA and it's grant program.
In 2010, Jeff spent many days in the Wisconsin state capital monitoring and testifying on behalf of the NRA and Wisconsin gun owners. Jeff has always, and continues to, work directly with the NRA ILA liaison presenting a strong united front to Wisconsin legislators and media. Wisconsin gun owners and NRA members, are very fortunate to have such a dedicated volunteer at the helm of the state association.
Jeff's credentials include NRA Training Counselor, NRA Chief Range Safety Officer, and NRA Range Technical Team Advisor. Jeff is also the state coordinator for the NRA's Field Support Team program with over 26 localized teams. He is also one of the founders and current chairman of his local Friends of NRA event in Appleton.
Please join us in congratulating Jeff on his award and more importantly thanking him for his service to Wisconsin gun owners, Wisconsin FORCE, and the NRA.
The following the award Jeff had this to say:
I am surrounded by enablers, and my wife Jenna  is the guiltiest of them all! This Saturday I am honored to receive one of three NRA-ILA "Jay M. Littlefield Memorial Volunteer of the Year Awards" at NRA headquarters. The award is an annual honor that recognizes an NRA member who "demonstrates exceptionally meritorious activism in defense of our Second Amendment rights".

All of us are very lucky that Jenna is such a great supporter of our rights. She allows me to devote time and money supporting the Second Amendment. Without her I would not have been in a position to accomplish all that we have gotten done. We also have the best NRA Field Representative in the country in Scott Taetsch.

There is a long list of people that have helped blaze the path that I am following. If I tried to list everyone that was involved both in the forefront and behind the scenes, protecting our rights, I am sure I would miss many. Without the groundwork being set and the support of those around me, I am sure that what I have achieved would not have been obtainable. Since the NRA is flying me out to receive this award, I will be using it as an opportunity to do a face to face with several at headquarters that I have been working with to improve things in Wisconsin. If you appreciate what has been done and want to support the future, I ask that you support the NRA, Wisconsin FORCE, and the Friends of the NRA.

See you on the Range

Jeff
About:
Wi-FORCE promotes and protects the shooting sports, hunting, and the lawful ownership and use of firearms in Wisconsin. We coordinate match schedules of member clubs, sanction the state championship matches, monitor and recommend legislation, and provide training and educational programs for our members, competitors and Wisconsin shooters. Wi-FORCE supports the interaction and education of all individuals and groups interested in the shooting sports and the natural right of citizens to own arms. Visit: www.wi-force.org