COHA Measure to Support Nonprofit Sportsmen's Groups Reaches Governor's Desk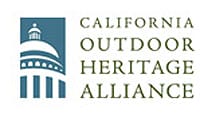 SACRAMENTO, CA –-(Ammoland.com)- SB 752 (Berryhill) would allow hunters and fishermen to voluntarily share their contact information with nonprofit sportsmen's organizations of their choice when purchasing a license or other entitlement through the Department of Fish and Game's Automated License Data System (ALDS).
The bill would link up more hunters and fishermen with nonprofit sportsmen's groups that perform game or fish conservation projects, offer hunting or fishing topportunities to the public or carry out other important work on their behalf.
SB 752 would facilitate greater participation of hunters and fishermen with game conservation efforts in their area, as well as assist sportsmen's groups with their public outreach efforts.
SB 752, which received broad bi-partisan support in the State Legislature, is sponsored by California Outdoor Heritage Alliance (COHA) and our founding member, California Waterfowl.
COHA-member groups are urged to send letters to Governor Brown asking him to sign SB 752. For a sample letter, click here.
About:
The California Outdoor Heritage Alliance (COHA) is a partnership of conservation organizations, outdoor industry, other related interests and individuals who support science-based wildlife management and the preservation of our hunting rights in California. COHA is a 501(c)4 Political Advocacy organization dedicated solely to influencing legislative, regulatory and administrative policy decisions which promote wildlife conservation and our outdoor heritage. For more information about COHA, visit www.outdoorheritage.org.