MGI Signs Acusport To Distribute Hydra Rifle And Accessories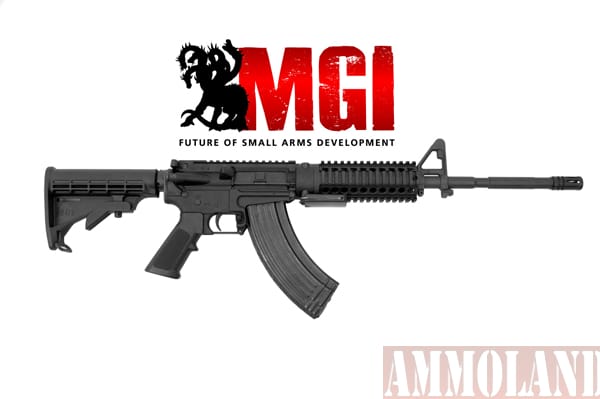 AcuSport to distribute MGI's Hydra Modular black rifle M16/AR-15 platform to a nationwide base of retailers.
Old Town, ME -(Ammoland.com)- MGI, the manufacturers of the highly versatile Hydra Modular weapon system, proudly announce a partnership with AcuSport Corporation, a leading distributor of outdoor and shooting sports products in the U.S. A.
AcuSport will carry MGI's Hydra Modular Rifle system and accessories throughout their distribution centers to retailers nationwide. MGI, the original inventors of the Bushmaster, developed the Hydra Modular Rifle system.
The MGI MARCK 15, known as the Hydra, is the base system, ready to fire out-of-the-box that includes the Modular Lower Receiver, QCB Upper Receiver and a 16-inch barrel. The MGI Hydra system includes various magazine wells and caliber conversions that allow barrel changes in seconds and utilizes the correct magazine for the desired caliber.
In this ever growing system, many calibers are now available including .22 rimfire, 9mm, .40 S&W, .45 ACP, .223 or 5.56, 6.5 Grendel, 7.62×39, 6.8 SPC, .450 Thumper, .458 SOCOM, .50 Beowulf and over two dozen configurations with additional magwells. The Hydra Modular Rifle system is the most versatile black rifle platform on the market today. The much anticipated MGI 9mm and .40 S&W conversion kits for use with Glock magazines will soon be available and also distributed through AcuSport.
"AcuSport has an excellent reputation in the firearms industry as providing superior service to retailers," Mack Gwinn, President of MG Industries stated. "We are very proud to partner with this industry giant and look forward to a long and mutually beneficial relationship."
AcuSport has been providing retailers with the quality products from the shooting sports industry since 1947. Based in Bellefontaine, Ohio, AcuSport has regional sales offices in Ohio, Pennsylvania, Georgia, Minnesota, Texas, Montana and California all providing excellent customer service to firearms businesses nationwide.
Independent retailers, who would like to place an order, please contact an AcuSport Sales Professional by calling 800-543-3150 or visit www.AcuSport.com for additional information.
About MGI:
As a Maine based company, MGI is committed to providing the United States military and the American law enforcement community a weapons platform of endurance, reliability and lethality to face the mission and tactical challenges of a post 9/11 World. MGI products are MADE IN THE U.S.A. and available commercially through AcuSport Corporation ([email protected] 937-593-7010), Camfour (413-564-2300) or Zanders (800-851-4373) or visit www.mgi-military.com.