Modern Defensive Training Systems News, Updates & Events October 2011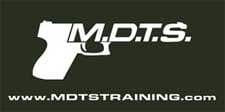 Utica, NY –-(Ammoland.com)- For those of you down in NJ and NY dealing with hurricane Irene and flood damage our thoughts are with you.
The summer has passed us already and we are now getting ready for fall, hunting season and the cold weather.
Keep your eyes on the MDTS website's schedule page for upcoming short format (4hr) Combative Pistol, Carbine and Practical Combatives workshops to be held throughout the winter months.
October Updates:
MDTS will be hosting Rob Pincus on Nov 4-6 for Intro to Combat Focus Shooting on Friday and Advanced Pistol Handling on Saturday & Sunday. You must attend the Friday class or have attened a CFS class previously in order to attend the APH class. See more details below.
Please note that we rescheduled the Sep 3 CPS class at New Paltz Rod & Gun Club for Saturday Oct 15th. See below for details.
Please note the earlier start times for classes as we approach the later months of 2011. Since we will be losing daylight we will need to start earlier in order to cover all the class material.
Twitter: while I have personally utilized Twitter for some time I have been hesitant about creating an MDTS Twitter feed. Twitter is an excellent real time conduit for information which integrates well with our Facebook presence. If interested, follow us @MDTS_Training.
Facebook:
If you are on facebook check the MDTS Facebook page when you get a chance or join up if you are not. We are increasing our online efforts to provide more services and information to MDTS customers via the FB page. We will be posting more personal training logs, videos, drills, gear reviews, pictures from classes, articles and invites to various short notice MDTS Training events there on a regular basis.
If I don't run into you at a class, at the range or on the mats have a great summer and as always, keep training.
Chris
About Chris:
Chris Fry is the owner and director of training and curriculum development for Modern Defensive Training Systems in Utica, N.Y. where he conducts courses in reality driven practical combatives skills, extreme close quarters physical defense, tactical folding knife and edged weapon combatives and combative pistol, carbine and shotgun skills. MDTS offers a variety of courses for responsible citizens, corporations, law enforcement and the U.S. Military with a singular goal of providing up to date, realistic and practical personal protection training. Visit: www.mdtstraining.com