Mule Deer Foundation Chapters Sponsoring Big Buck Contests in Wyoming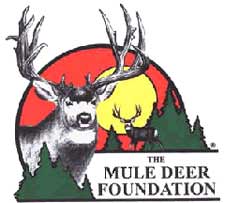 ROCK SPRINGS, Wyo. –-(Ammoland.com)- For the seventh year in a row, the Mule Deer Foundation's (MDF) Muley Fanatic Chapter in Rock Springs, Wyo., is helping sponsor a "Monster Buck Contest" for mule deer taken in the state during the 2011 hunting season. Prizes include rifles, shoulder mounts, and more.
This year the "Monster Buck Contest" will have five divisions: Ladies, Men, Youth, Archery and Antler Trash. Entry is free, and the contest will run from Sept. 1 through Oct. 31.
Winners will be announced on Nov. 2, 2011.
For more information visit www.muledeer.org or contact Josh Coursey at 307-352-6500.
In addition to MDF, sponsors for the Rock Springs contest include Wyoming Trucks, Castle Rock Archery, Infinity Power & Controls, Baas Taxidermy, Back Country Taxidermy, Trailhead Guns, Harris Taxidermy, and others.
Another "Big Buck Contest" is being sponsored by MDF's Thunder Basin Chapter out of Gillette, Wyo., in conjunction with Rusty Bell Taxidermy. Qualified entries can be any 2011 legally harvested Wyoming whitetail or mule deer.
Prizes for the Gillette contest will include a shoulder mount by Rusty Bell Taxidermy, binoculars and a knife. The contest is open to Wyoming resident or non-resident hunters. A $20 entry fee is required per division and must be received by Sept. 30, 2011. Scoring will be done at various Gillette locations on Oct. 22, Nov. 26, or by appointment by Dec. 7, 2011.
For an entry form and additional information visit www.muledeer.org or contact Kim Hansel at 307-689-2506.
About the Mule Deer Foundation:
The Mule Deer Foundation is one of the key conservation groups in North America working to restore, improve and protect mule deer, black-tailed deer and their habitat. With a focus on science and program efficiency, MDF has raised millions of dollars and put countless man-hours on the ground for mission-critical projects. MDF acknowledges regulated hunting as a viable management component and is committed to recruitment and retention of youth into the shooting sports and conservation. Visit www.muledeer.org or call 1-888-375-DEER.