Mule Deer Foundation Connects with Youth at Wyoming Expo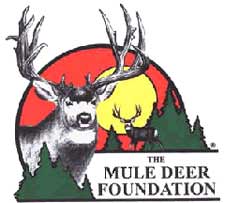 CASPER, Wyo. –-(Ammoland.com)- Mule Deer Foundation (MDF) staff and volunteers assisted at the recent Wyoming Hunting and Fishing Heritage Expo (Expo) in Casper, Wyo.
Final numbers are not in yet, but an estimated 14,000 people attended, with about 8,000 being school-aged children.
MDF's Youth Programs Coordinator Jon Zinnel said, "The MDF-sponsored rifle and shotgun ranges at the Expo gave young people the opportunity to learn how to handle a firearm. All of the instructors made sure the kids fully understood the aspects of firearms and range safety before participating. Students were taught the proper and safe way to handle, aim and fire the guns. This program was consistent with MDF's M.U.L.E.Y. mission, which is to safely introduce youth to shooting sports, ensuring the sport's continued growth."
MDF Corporate Partners also helped. ATK Federal Ammunition provided shotshells and rimfire ammunition for the MDF shooting ranges, and Crosman Corporation donated 10,000 pellets for the indoor air rifle range. Together, MDF and its partners helped introduce students to the outdoors and let them know where to get involved with other on-going shooting, hunting and conservation programs.
The Expo, hosted by the Wyoming Game and Fish Dept., is a statewide annual event open to the public. It provides learning and participation opportunities that emphasize the relevance of wildlife and habitat management, as well as ethical behavior and stewardship of the outdoors.
Zinnel concluded, "The Expo was just a great event. We not only influenced thousands of youth with shooting sports, but we also gained exposure and a foothold in the state of Wyoming with our M.U.L.E.Y. youth program. The Expo was very well put together, and we look forward to participating again next year."
About MDF and the M.U.L.E.Y. Program
The Mule Deer Foundation is one of the key conservation groups in North America working to restore, improve and protect mule deer, black-tailed deer and their habitat. With a focus on science and program efficiency, MDF has raised millions of dollars and put countless man-hours on the ground for mission-critical projects. MDF acknowledges regulated hunting as a viable management component and is committed to recruitment and retention of youth into the shooting sports and conservation. Get involved at www.muledeer.org or call 1-888-375-DEER.
The mission of MDF's M.U.L.E.Y. (Mindful, Understanding, Legal and Ethical Youth) program is to safely introduce youth to shooting sports, ensuring the sport's continued growth. The M.U.L.E.Y. program is funded by Larry and Brenda Potterfield and the MidwayUSA Foundation. Visit the M.U.L.E.Y. Facebook page at https://www.facebook.com/mdfyouth.
About Wyoming Hunting and Fishing Heritage Expo
Wyoming's wildlife-related recreational opportunities are so valuable and important that the Wyoming Game and Fish Department initiated the Wyoming Hunting and Fishing Heritage Expo in 1998, and it has become an annual event. The Expo is just one way the Wyoming Game and Fish Department is helping to insure the future of Wyoming's hunting, fishing and wildlife viewing heritage for generations to come. For more information visit https://gf.state.wy.us/services/education/expo/index.asp.