Mule Deer Foundation Rockin' in the Bakken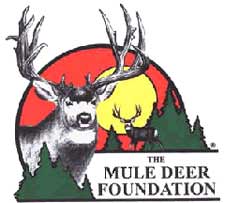 WILLISTON, N.D. –-(Ammoland.com)- The Bakken oil patch has created quite a boon in North Dakota, and the Mule Deer Foundation (MDF) will be providing residents with some much needed entertainment this weekend that will also benefit local deer herds.
MDF will host two banquets – Stanley, N.D., Fri., Sept. 9, at the Two Way Steakhouse and Williston, N.D., Sat., Sept. 10, at the Raymond Family Center. MDF Regional Director Marshall Johnson has coined the event "Rockin' in the Bakken."
Johnson said, "Ryan Krapp, North Dakota State Chair, and I felt this was a good time to introduce MDF to the folks up in northwestern North Dakota.

We thought a banquet was a great way to do it, as the entertainment options are slim up in the Bakken Oil Fields." He continued, "We hope to get some interest in starting a chapter in the Stanley area, as well as recruit volunteers for our newly formed Muddy Buck Chapter in Williston."
The top gun raffle at both locations will be a .50 Cal Noreen Ultra Long Range Rifle. Tickets will be $100 each, with just 50 being sold. There will also be a Progressive General Raffle that has five guns in it, as well as numerous other raffles.
At both of these events, doors will open at 5:00 p.m. for the social, which will include a silent auction, raffles and games. Dinner will be served at 7 p.m., with a lively benefit auction to follow.
"Rockin' in the Bakken" is going to be about guns, fun and raising money for mule deer conservation. For ticket information, contact Marshall Johnson at 406-850-8785.
About the Mule Deer Foundation:
The Mule Deer Foundation is a national non-profit 501(c)(3) organization with members in every state, as well as Canada and Mexico. MDF's mission is to ensure the conservation of mule deer, black-tailed deer and their habitat. MDF is dedicated to restoring, improving and protecting mule deer habitat (including land and easement acquisitions) resulting in self-sustaining, healthy, free-ranging and huntable deer populations; encouraging and supporting responsible wildlife management with government agencies, private organizations and landowners; promoting public education and scientific research related to mule deer and wildlife management; supporting and encouraging responsible and ethical behavior and awareness of issues among those whose actions affect mule deer; acknowledging regulated hunting as a viable component of mule deer and black-tailed deer conservation; and developing programs that focus on recruitment and retention of youth into the shooting sports and conservation. Learn more at www.muledeer.org.