Ruidoso, NM Planning to Ban All Guns Ignoring State Constitution & Leaving Citizens Defenseless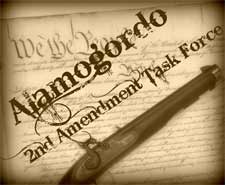 Alamogordo, NM –-(Ammoland.com)- The above is from the mayor of Ruidoso, NM.
It is clearly an illegal act, as it violates Article II Section 6 of the NM Constitution. A law suit has already been filed by Miguel Garcia, a local civil rights attorney.
WE NEED YOUR HELP!
There will be a meeting of the Ruidoso city council on Tuesday, 13 september 2011, and we would like to have a group of people open carrying outside the building. The local police will not allow anyone who is armed into the building, so our group will remain outside as a reminder that we have a right to be there.
If you would be willing to help us make a statement here, please reply ASAP. We will provide details later as to where and when.
About:
The Alamogordo Second Amendment Task Force is an association of private citizens engaging in the free exercise of their God-given, constitutionally protected right to be armed.Visit: www.alamogordo2atf.com