ARMED AMERICAN RADIO Goes On The Road This Weekend, Sunday 10-16-2011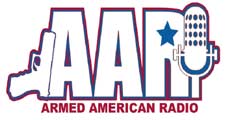 Atlanta GA –-(Ammoland.com)- Nationally syndicated Armed American Radio hits the road this weekend Sunday, 10-16-2011 from the Talk Radio 860 studios of AAR affiliate station WGUL in Tampa, Florida.
This marks the second live broadcast from the WGUL studios this year.
In addition to the live broadcast, Armed American Radio host Mark Walters will be signing his book Lessons from Armed America, (co-written with Kathy Jackson) during an appearance at the Suncoast Gun Show at the Florida State Fairgrounds with AAR sponsor, Tactical Weapons Solutions on Saturday, 10-15-2011 from 2-5pm.
Syndicated host Mark Walters said, "Being from Tampa makes bringing the show live from Talk Radio 860 WGUL very special. It's always great to be home and it will be a lot of fun to meet Armed American Radio fans at the Tactical Weapons Solutions booth at the Suncoast Gun Show on Saturday.
"If you're in the area this weekend make sure to stop by and say hello!"
Adding affiliate stations at an unprecedented pace since its syndication two years ago, AAR now airs in dozens of markets across America from Florida to Alaska every Sunday evening from 8-11pm ET, 5-8 pm PT and is the fastest growing nationally syndicated, pro-gun radio broadcast in America.
Focusing on the right to carry a firearm, Mark Walters and the Armed American Radio Network bring listeners the news, information and truth about the right to carry that the mainstream media simply ignore!
For more information, or to schedule an interview, please contact:
Mark Walters
Host
Armed American Radio Network www.armedamericanradio.com
[email protected]
386-AAR-Mark (386)-227-6275
Armed American Radio is syndicated on the Salem Radio Network. For media kit information, please visit www.srnonline.com/talk/talk-walters.shtml
About:
Armed American Radio is the most free-thinking, politically incorrect radio station in the U.S.A. We discuss liberty, self-defense, weapons, family, friends, and life. Visit: www.Armedamericanradio.org