Calguns Foundation Publishes Report On 2011 Statewide Carry License Statistics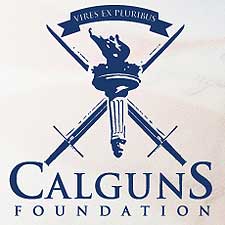 San Carlos, CA –-(Ammoland.com)- As part of its ongoing Carry License Sunshine and Compliance Initiative, the Calguns Foundation has released a report containing Licence to Carry ("LTC") statistics on all reported active carry licenses for all licensing authorities across the state of California.
Read more about the report and how Gov. Brown's signing of AB 144 impacts Californians' ability to bear arms for self-defense at the CGF Blog.
A downloadable copy of the Statewide Active LTC Report may be found at CGF's downloads library.
More information on Calguns Foundation's Carry License Sunshine and Compliance Initiative, and other Second Amendment-related litigation and educational efforts, can be found at www.calgunsfoundation.org.
The Calguns Foundation (www.calgunsfoundation.org) is a 501(c)3 non-profit organization which serves its members by providing Second Amendment-related education, strategic litigation and the defense of innocent California gun owners from improper or malicious prosecution. The Calguns Foundation seeks to inform government and protect the rights of individuals to acquire, own, and lawfully use firearms in California.