POMA and Outdoor Hub Launch Great Outdoor Jobs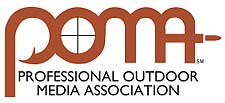 JOHNSTOWN, PA – -(Ammoland.com)-  The Professional Outdoor Media Association (POMA) and Outdoor Hub, The Outdoor Information Engine are proud to launch the outdoor industry's largest reaching job board, Great Outdoor Jobs.
Great Outdoor Jobs combines Outdoor Hub, which reaches 11-million-plus outdoor enthusiasts monthly,with the experience of POMA's Money Line career service. POMA is the industry's premier communicators organization. Since 2005, Money Line has provided top-level communicators, marketing professionals and industry executives career opportunities.
"POMA's Money Line service is the leader in connecting industry professionals offering or seeking employment," said Laurie Lee Dovey, POMA's executive director. "Joining forces with Outdoor Hub allows this service to be expanded to the entire outdoor industry."
Employers and Job Seekers can begin using Great Outdoor Jobs today by visiting: www.outdoorhub.com/outdoor-jobs.
"Outdoor Hub is the largest audience of outdoor enthusiasts online," said Hyaat Chaudhary COO of Outdoor Hub. "We deliver a meaningful user experience, value to our publishers and results to our advertisers. Developing an industry-leading job board in partnership with POMA is another step in achieving our mission while also fostering opportunity and growth within the outdoor industry."
Great Outdoor Jobs is a free service to employers and job seekers. It covers the full spectrum of opportunities, from entry-level to executive positions. In addition, visitors may find full-time and part-time job listings, freelance positions and even internships.
To learn more about POMA, please visit www.professionaloutdoormedia.org and to learn more about Outdoor Hub, may visit www.outdoorhub.com.
About:
POMA (www.professionaloutdoormedia.org) is considered the premier, international, professional communications organization in the shooting, hunting, fishing and trapping industries. Its more than 320 media members are renowned editors, writers, photographers, broadcasters and publishers. In addition, the 140-plus industry firms and organizations who are Corporate Partner members share POMA's focus on serving the outdoor press corps, developing the next generation of outdoor journalists and perpetuating the traditional outdoor sports.