Send Your Hunting Photos to NRAhuntersrights.org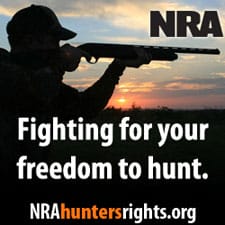 Fairfax, VA--(Ammoland.com)- FAIRFAX, Va.—Most of us share our hunting photos with family, friends, or even co-workers, but how about sharing them with the world?
NRAhuntersrights.org maintains an online photo gallery where hunters can proudly put their trophies on display for everyone to see.
With hunting seasons already underway around the country, all hunters are welcome to send in their photos, and what constitutes a trophy is completely up to you!
Simply e-mail your photo to [email protected] and put "Trophy Gallery" in the subject line.
All photos should be sharp, tasteful, and display safe gun handling practices.
Include the following information with your submission:
Your name and hometown
Date and location of the hunt
Firearm or bow used
Type of species
Any special details about the hunt
To view photos other hunters have already submitted, visit www.NRAhuntersrights.org and click on the "Trophy Gallery" tab at the top of the page. The gallery will be updated all season, so stop back often to see the latest trophies—not to mention the latest news that impacts your right to hunt.
About:
For the most up-to-date information about your hunting rights there's just one source: www.NRAhuntersrights.org.