Starting a College Marksmanship Club
Manasquan, NJ –-(Ammoland.com)- Practicing marksmanship in college offers students of both genders the opportunity to engage in a fun and exciting activity while learning important lessons about gun safety and use.
It can also be a way for college students to earn credits for college courses and potentially even scholarships for their academic endeavors. Students at schools across the country from smaller junior colleges to Ivy League institutions are taking part in marksmanship courses, clubs, and tournaments.
While marksmanship programs are being offered in an increasing number of college and university settings, they aren't as common as other extracurricular activities. Schools with ROTC programs might offer classes on gun safety and basics of shooting, but this isn't true throughout the country.
In some cases, students interested in marksmanship will need to organize their own clubs in order to experience the many benefits they offer.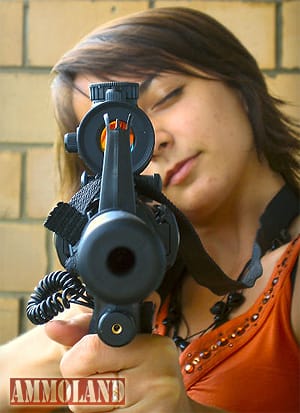 Starting a college marksmanship program might seem daunting for students without a program on their campus, but there are resources available to help them out. Interested students can apply for grants through the National Shooting Sports Foundation, the trade organization for the firearms and shooting sports industries. They established the Collegiate Shooting Sports Initiative grant program in 2009, which provides up to $300,000 in grants annually to accredited colleges and universities across the United States to create new or expand existing shooting programs.
Grants have been used by Jacksonville University to start a target shooting club, by Trinity College and Schreiner University to fund seminars for beginners on gun safety and target practice, and to create the New England Collegiate Clay Target Championship, featuring teams from Harvard, Yale, Brown, and Tufts.
The National Shooting Sports Foundation recommends students who want to launch a marksmanship or target shooting club at their school work closely with the safety or risk management office early in the development process. It's a requirement for receiving funding through the Collegiate Shooting Sports Initiative and an important step to ensure safety and institutional support.
With increased emphasis on gun safety in the wake of shooting incidents at several campuses in recent years, students will want to make sure their shooting clubs are following all campus rules and regulations on weapons before proceeding. Working closely with safety officers on campus and making them aware that marksmanship programs will teach safety and prevent gun problems can create partnerships that will help as programs go through the approval process with the school.
Students will also want to consider which students to address with their initial recruitment efforts. Launching a club as a recreational activity rather than a competitive endeavor will create a broader pool of potential participants. Programs will also need to find a faculty or staff member to serve as liaison with the school. The school's ROTC is a good place to start. Another option is asking local firing ranges if they know of any faculty or staff from the school who are members.
While marksmanship programs aren't for every college student, they can offer many benefits for those already interested in target shooting or who want to learn more about this activity. Skilled students can compete in tournaments that offer significant scholarships and other awards, but students at all levels interested in target shooting and gun safety can benefit from collegiate shooting clubs.