U.S. Sportsmen's Alliance Foundation Trailblazer Program Seeks to Expand in 2012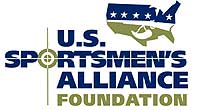 Columbus, OH –-(Ammoland.com)- While the 2011 calendar year end is a few months away, now is time to start making plans for 2012—and hopefully those plans will involve hosting or volunteering to work at a U.S. Sportsmen's Alliance Foundation Trailblazer Adventure program.
Plans are underway to again offer these one-day outdoor introduction programs that are popular with kids and families.
"The Trailblazer Adventure Program continues to be a great avenue for youth and families to become familiar with the outdoor lifestyle", said Derrek Shively, U.S. Sportsmen's Alliance director of education. "We are excited about 2012, and look forward to new opportunities to reach out to communities across the country, as well as sustaining and recruiting both individual volunteers and organizations that make the Trailblazer Adventure Program what it is today."
More than1.2 million participants have attended Trailblazer Adventure events since 2001 in 47 states. Those states range from Pennsylvania to California, and from Washington to Alabama. While many events are held in partnership with Boy Scout camps, this year events were also held at other locations, such as the Churchill Downs in Louisville, Kentucky and the Bassmaster Classic Expo in New Orleans, Louisiana. An event was also held at Camp Ripley, a military base in northern Minnesota, and an event is coming to a community college this weekend in Nelsonville, Ohio. Another event will be held at Rockcastle Shooting Center at Park Mammoth Resort in Park City, Kentucky.
Trailblazer Adventure events include activities, demonstrations and orientation sessions designed to let children and their parents or guardians experience the outdoor lifestyle. Activities include: firearm shooting and safety (BB guns, shotguns or .22's are used), archery, trapping, fishing and much more. Some sites have hosted hunting with raptor activities and game calling contests. All Trailblazer activities are conducted under the supervision of experienced instructors with an emphasis on safety.
Trailblazer has received many awards and accolades, including a U.S. Department of the Interior Take Pride in America® award for its leadership in recruiting youth and families to outdoor sports.
Additionally, many organizations have provided invaluable resources to make Trailblazer a reality in the past such as the National Shooting Sports Foundation, Boy Scouts of America, the U.S. Fish and Wildlife Service, nearly every state wildlife agency, and numerous national conservation based groups, such as Fur Takers of America, Masters of Foxhounds Association, and the National Wild Turkey Federation. In addition to these groups, tens of thousands of volunteers, many from an expansive national network of local conservation clubs, have donated their time and money to make each Trailblazer event a unique experience for the children and families attending.
For more information about the Trailblazer Adventure program, e-mail [email protected] or visit www.trailblazeradventure.org. For additional details about volunteering or hosting a Trailblazer Adventure Program event in 2012, contact Derrek Shively at [email protected] or call 614-888-4868.
About:
The U.S. Sportsmen's Alliance is a national association of sportsmen and sportsmen's organizations that protects the rights of hunters, anglers and trappers in the courts, legislatures, at the ballot, in Congress and through public education programs. Visit www.ussportsmen.org.