Win a Benjamin Discovery Air Rifle at NRAhuntersrights.org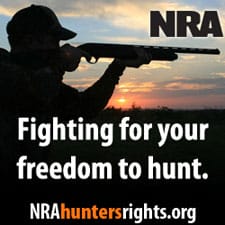 Fairfax, VA--(Ammoland.com)- During the month of November, enter for a chance to win a .22 caliber Benjamin Discovery air rifle and accessories at www.NRAhuntersrights.org.
Donated by the Crosman Corporation, this rifle is proudly engraved with the official NRA logo on the stock.
While shooters continue to love air guns for recreational shooting, training, pest control and competition, more and more hunters are looking at them as viable choices, too. Quiet, accurate and powerful, air guns are serious game-getters in the right hands.
The bolt-action, single-shot Discovery uses a PCP (pre-charged pneumatic) power plant generating pellet velocity up to 900 fps. It's fully capable of taking fox-size game at up to 30 yards.
This Discovery comes with a hand-selected American walnut stock—custom-designed by Frank Vallone of Sycamore Hill Designs and laser-engraved with the NRA logo. Other features include a two-stage adjustable trigger, rifled steel barrel, fiber optic sights (rear adjustable), a built-in pressure gauge, quick disconnect fittings, and cross bolt safety. The Discovery's Dual Fuel feature also allows it to easily convert from compressed air to CO2 power (tank and converter not included).
The package comes with a high-pressure hand pump, a tin of 500 Benjamin Premier ultra magnum pellets, and a Benjamin camouflage hat.
Suggested retail price of this package would be $960.
To enter the November Gift Giveaway, visit www.NRAhuntersrights.org, scroll down to "Gift Giveaway" on the right side of the homepage, and follow the simple entry instructions. There is no cost to enter. Entries will be accepted now through Nov. 30, 2011, and a winner will be announced Dec. 1 on www.NRAhuntersrights.org. One entry per person, please.
For more on Crosman, Benjamin, CenterPoint Hunting and Outdoor Precision Optics, or Game Face Airsoft products, visit www.crosman.com, www.centerpointhunting.com, www.gamefaceairsoft.com, or e-mail Laura Evans, Marketing Coordinator, Crosman Corporation, at [email protected]