New Gear For The New Year In American Handgunner Tactical Magazine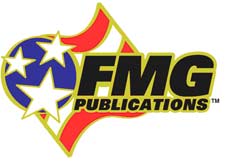 San Diego, Calif. –-(Ammoland.com)- The 2012 American Handgunner Tactical Special Edition explores a variety of cutting-edge tactical firearms and accessories, including the Kimber Solo, Les Baer Centennial 1911 and more.
With input from its Master Dealers, Kimber set out to create a lightweight, compact, semi-auto pistol capable of handling a full-power service cartridge, and came up with their new Solo. Exceeding initial expectations, the gun weighs in at 17 ounces, and measures only 5″.
"The Kimber Solo is a pocket-size pistol intended for personal defense," says author Dave Anderson. "In testing, it proved to be completely reliable and amazingly accurate. Comparable in size to a compact .380 blowback — yet it's a locked breech 9mm!"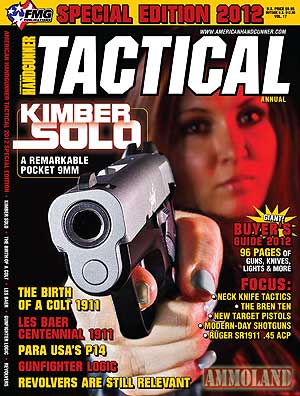 With so many 1911s on the market, something needs to be special about the gun to make it a worthy addition to your collection. In "Les Baer Centennial Model 1911," Mark Hanten tells readers why Les Baer's new 1911 is "a truly fine 1911 by any measure."
From the Centennial Model 1911's remarkable accuracy and dependability, to just being darn pretty, Hanten liked it so much he bought the test gun.
Mike Boyle talks about using shotguns as modern-day defensive stoppers in "Combat Shotguns in the 21st Century."
While handguns may be convenient because they can be carried discreetly, shotguns provide both a psychological deterrent, as well as more stopping power in a defensive situation. Boyle examines the possible shortcomings of shotguns — and how to overcome them.
The Tactical Special Edition features the 2012 Buyer's Guide, including over 90 pages of handguns, rifles, shotguns, knives, lights and more.
For more information on the American Handgunner Tactical Special Edition, visit www.americanhandgunner.com/tactical.