Armed American Radio Announces Continued Growth And A Great Lineup, This Week On AAR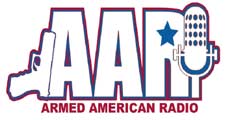 Atlanta GA –-(Ammoland.com)- Nationally Syndicated Armed American Radio Announces Continued Growth With The Addition Of WYOO, Talk Radio 101 Fm In Panama City, Fl And Surrounding Areas.
Syndicated Host Mark Walters Said, "It Is Always A Pleasure To Add Affiliates Nationwide To The Aar Family And Especially Rewarding When Those Stations Bring More Listeners From My Adopted Home State Of Florida! Welcome To The Newest Armed American Radio Fans In The Panama City Area As We Fill Your Prescription For Freedom Every Week On Talk Radio 101 Fm!"
Coming Up On Aar This Week, The Passage Of National Reciprocity, Hr 822 Has Prompted Much Discussion. AAR Welcomes Executive Director Of The Gun Owners Of America, Mr. Larry Pratt And Andrew Arulanandam From The National Rifle Association To Discuss The Misgivings Some CCW Holders Might Have About The Bill, Plus Firearm Expert, George Hill, Renowned Trainer, Rob Pincus, Calls, Emails And More!
Adding Affiliate Stations At An Unprecedented Pace Since Its Syndication Two Years Ago, AAR Now Airs In Dozens Of Markets Across America From Florida To Alaska Every Sunday Evening From 8-11Pm ET, 5-8 Pm Pt And Is The Fastest Growing Nationally Syndicated, Pro-Gun Radio Broadcast In America. As Salem Radio Syndicated Talk Host Mike Gallagher Says, "Mark Walters And The Armed American Radio Network Are Redefining Weekend Talk Radio".
For More Information, Or To Schedule An Interview, Please Contact:
Mark Walters
Host
Armed American Radio Network www.armedamericanradio.com
[email protected]
386-AAR-Mark (386)-227-6275
Armed American Radio is syndicated on the Salem Radio Network. For media kit information, please visit www.srnonline.com/talk/talk-walters.shtml
About:
Armed American Radio is the most free-thinking, politically incorrect radio station in the U.S.A. We discuss liberty, self-defense, weapons, family, friends, and life. Visit: www.Armedamericanradio.org