Charter Arms Rolls Out 38 Undercover Special Chopper at NASGW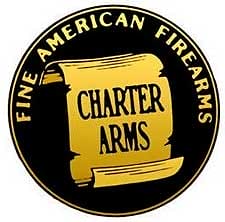 Shelton, CT –-(Ammoland.com)- Charter Arms, manufacturers of American made affordable and reliable revolvers for over forty seven years, unveiled at the recent NASGW show, its first commemorative motorcycle built by Orange County Choppers, specifically for Charter Arms.
Nick Ecker, president of Charter Arms said, "The customized themed chopper will tour the country over the next year as part of a new advertising campaign. Dealers and Distributors sale personnel are eligible to enter a chance to win the commemorative chopper before November 30, 2012 by submitting Charter Arms purchases. The lucky winners name will be drawn prior to the 2013 SHOT Show."

Chuck Walker, Senior Vice President of Sales and Marketing for United Sporting Companies commented, "Charter Arms 38 Undercover Special Chopper is going to create a huge draw of traffic in all of the dealer shops as it travels around the country. It's a beautiful bike with very specific firearm related details."

Dennis Donahue, Director of Merchandising for Bangers LT said, "There's no doubt, customers will appreciate Charter Arms and Orange County Choppers manufacture American made products. Firearm and bike enthusiasts will be wowed with the choppers soft tail frame, big motor and all of the 38 Undercover pistol components integrated into the bike's design and paint job."
To view the Undercover Special Chopper specifications, scroll down.
Charter Arms Undercover Chopper
Founded in 1964, Charter Arms manufactures a full line of revolvers made by professional, skilled American craftsmen in Shelton, CT, in the heart of New England's "Gun Valley." Steeped rich in tradition with unmatched customer service, Charter Arms revolvers are consistently associated with personal protection because of their strength, reliability and accuracy. All Charter Arms revolvers are covered by a lifetime warranty.
For more information, visit http://CharterArms.com or call customer service at (203) 922-1652. Media members interested in field-testing any of Charter Arms products for editorial review should contact Lisa G. Cinquino of Whistle Communications at [email protected], or call (203) 881-8381.