Don't Miss Casting Your Vote for the "Main Event"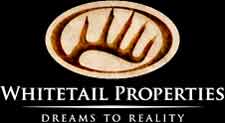 Pike County, IL –-(Ammoland.com)- Whitetail Properties Pro-Team member, Gabe Adair closes the curtain on a two-year quest for a buck he named "Main Event" in this week's episode of Whitetail Properties TV.
Gabe spotted this massive 188 ⅞ non-typical a few times in the off-season and caught him over the late-summer months on his Reconyx cameras as he planned the perfect set-up.
Having well-managed land and proper planning that includes pre-hunt preparations and hunting only when the conditions are perfect is in Gabe's DNA. Doing it right leads Gabe to drawing this trophy of a lifetime on a mid-November hunt more than 400 yards across a perfect patch of Iowa farmland.
This episode, about this exceptional animal, has earned Whitetail Properties TV two nominations for the Sportsman Choice Awards 2011, presented by the Sportsman Channel. The nominations are for "Best Hunt Show" and "Best Clip: Animal of the Year." Please show your support by casting your vote in these two categories for Whitetail Properties TV.
You can tune into this "must see" episode of Whitetail Properties TV on the Sportsman Channel, Monday, November 28th at 10 AM or 3:30 PM EST and again Wednesday, November 30th at 8 PM EST and see Gabe unleash his Bear Assault to draw the final curtain on the "Main Event." Also, please go and cast your vote on Sportsman's Facebook page (http://facebook.com/sportsmanchannel) starting today, Monday, November 28. Voting will close on Sunday, December 11 at midnight.
Every episode of Whitetail Properties TV features exciting hunts, while showcasing the benefits of owning your own recreational real estate. Hunting action is always fair-chase, intense and up-close. In addition to the hunt, each show educates viewers about buying and selling hunting, farm and ranch land, shares tips from our expert staff on how to improve your property for investment, recreational and productive use, and features other properties currently for sale.
Learn more at http://www.whitetailproperties.tv
Become a fan at https://www.facebook.com/WhitetailProperties
Follow us at http://twitter.com/ – !/WhitetailPropTV

Sportsman Channel Airtimes
Monday 10:00 AM & 3:30 PM
Wednesday 8:00 PM
Friday 6:00 AM
All times (EST)