Galco Gun Leather – A Brief History
PHOENIX, AZ –-(Ammoland.com)-  Galco International was founded by Richard N. Gallagher in 1969 as a small family business in Chicago, Illinois.
Known then as "The Original Jackass Leather Company," Gallagher specialized in holsters constructed of horsehide.
In 1980 the name of the company was changed to Galco International, and in 1983 the business was moved from Chicago to its present home in Phoenix, Arizona. Already famous for high quality and innovative designs, Galco gained worldwide notoriety when the Jackass shoulder system became a "recurring character" on the popular 1980's TV series Miami Vice.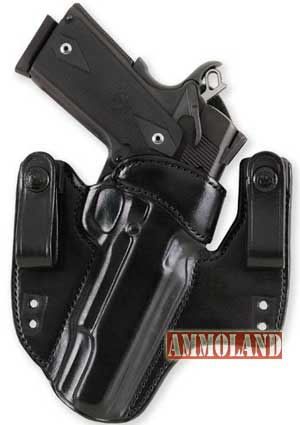 In the new century, Galco continues to be a favorite choice of Hollywood, appearing in more films and TV shows than any other holster maker.
Perhaps more importantly, Galco remains a major force in real-world firearms usage. Law enforcement personnel around the nation and across the world – from local departments to the largest federal agencies – are issued and use Galco products. Galco's array of law enforcement products ranges from concealment holsters to rifle slings approved by the National Tactical Officer's Association.
Military personnel from pilots to infantrymen have put Galco products to good use in the Global War on Terrorism. Particularly popular among the men and women of our armed forces are Galco's shoulder holsters, and Galco has for several years offered donated shoulder holsters to deploying service members through their Holsters for Heroes program.
With the rise of "shall issue" concealed carry laws in over 40 states, hundreds of thousands of lawfully armed citizens have chosen Galco to carry their defensive handguns. With holsters for every practical carry position and holster handbags for female gun carriers, Galco has become the choice of law-abiding Americans who prefer to go armed.
Every type of gun user, whether fictional or real-world, from law enforcement officers to warfighters to armed citizens, has chosen Galco to represent the highest quality and performance the industry has to offer.
From premium saddle leather, ballistic nylon, advanced thermoplastics and of course horsehide, and for almost every conceivable firearms use, Galco remains, "For those who demand the best… and know the difference."
About: Galco Gun Leather:
Galco International was founded by Richard N. Gallagher in 1969 as a small family business in Chicago, Illinois. Known then as "The Original Jackass Leather Company," Gallagher specialized in holsters constructed of horsehide. Visit: www.usgalco.com