Hunter Orange Clothing a Good Choice for Everyone – Not Just Hunters
Michigan DNR Stresses the Importance of Safety for Everyone during Hunting Season.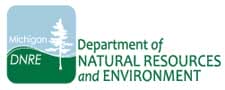 Michigan –-(Ammoland.com)- Hunting season is well underway in Michigan and now is a good time to remind everyone that it is wise to wear hunter orange clothing when you are out enjoying the state's trails and forest lands.
The Michigan Department of Natural Resources does not close trails or pathways during hunting season, and it is legal to hunt throughout these areas if you adhere to the laws regarding safety zones.
It is required by law that hunters wear "hunter orange." There is no similar law for recreationalists, but because so much of state land borders private lands and the DNR allows hunting on portions of state-owned land, it is imperative that individuals take precaution and dress themselves and their pets in brightly colored clothing.
"Due to the very popular activity of deer hunting, now is not an advisable time to take a quiet, unassuming walk in the woods," says Bill O'Neill, field coordinator for the Forest Management Division of the DNR. "Be smart about where you choose to go, wear brightly colored clothing and let hunters know that you are in the area. We must all work together to have a safe and successful hunting season in Michigan."
It is also important as you go out and enjoy Michigan's forest lands, that you understand the rules and regulations for hunting. In Michigan it is legal for hunters with disabilities to hunt from standing vehicles or off-road vehicles (ORV). This law does not grant any additional privileges for ORV operators with disabilities. It simply allows for hunters with disabilities better access to hunting locations on state-owned land. The DNR strongly encourages those hunters using alternative modes of transportation to mark their vehicles with hunter orange flags.
ORV operation is prohibited in public hunting areas during the regular November firearm deer season from 7 to 11 a.m. and 2 to 5 p.m.; except for these cases:
· Going to or from a residence or hunting camp that is inaccessible by a conventional vehicle (subject to state land regulations)
· On private property, with landowner's permission
· Passenger vehicles while being operated on roads capable of sustaining automobile traffic
· Persons holding a "Permit to Hunt From a Standing Vehicle" or otherwise meeting disability requirements while engaged in hunting or fishing activity
For more information about ORV rules and regulations in Michigan please visit: www.offroad-ed.com/mi/handbook.
To find ORV trail maps for state-owned lands, visit www.michigan.gov/orvtrails.
For more information on hunting opportunities in Michigan, visit DNR's hunting website at www.michigan.gov/hunting.
The Michigan Department of Natural Resources is committed to the conservation, protection, management, use and enjoyment of the state's natural and cultural resources for current and future generations.