Leeper Wins 3GN Junior Shooting Championship
Harris Gives Up Slot; Denno, Wilcox, Niederbrach Qualify For 1st 3GN Junior Shoot-Off.
By Chad Adams

GLENGARY, WV –-(Ammoland.com)- Cody Leeper defeated JD Wilcox to claim the inaugural 3-Gun Nation Junior Division Championship at the 3GN Championship here Nov. 13, winning $5,000 from Cheaper Than Dirt.
Leeper, after posting solid scores at Ozark and FNH USA 3-Gun, surged into the top qualifying spot after trailing Katie Harris for much of the season. Then the Emmett, Idaho High School junior won two Shoot-Off bouts to claim the Junior title.
In the first round, Leeper defeated Devin Niederbrach, who made his first appearance in a 3GN Shoot-Off via a remarkable decision by Katie Harris.
Eleven-year-old Devin Niederbrach had a great run during the 3-Gun Nation Junior Division Shoot-Off.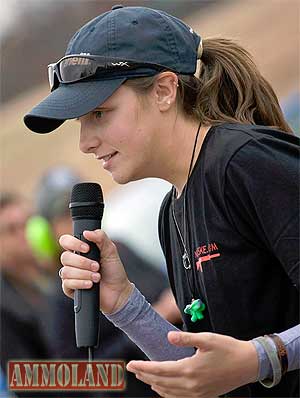 Harris was earlier afforded the opportunity to compete in a 3GN Shoot-Off at last year's Fort Benning 3-Gun when Kurt Miller vacated his spot for Harris. An event Harris and her father, Joe, consider pivotal in her shooting development, Harris has since gone on to post several top Junior and Lady finishes in Tactical Optics.
So Harris, who was already qualified to compete in the 3GN Lady Shoot-Off, decided to pay it forward, vacating her slot, which allowed young Niederbrach a chance on the big stage.
In the other first-round match-up, Warne's JD Wilcox upset Jake Denno to advance to the finals. Denno, who had been injured much of the season, put together impressive match scores down the stretch to qualify second overall. Wilcox, in his first year of competitive 3-gun, improved his scores all season to qualify for the Championship.
But the day belonged to Leeper, who has had a phenomenal season, including a 3-Gun Nation Team Event win earlier this year. However, his most impressive stat of the season is arguably a stage win at Ozark in Tactical Optics, winning a rifle stage over the likes of Daniel Horner and the other top shooters in the sport.
Now Leeper adds a 3GN Junior Division Championship to his resume, including a check for $5,000 from Cheaper Than Dirt.
Junior competitors used sponsor-provided FN SLP shotguns, FN SCAR 16 rifles topped with Leupold scopes and fitted with SureFire suppressors, and Ruger SR-9 semi-auto pistols during the Shoot-Off.
All ammunition was provided by Federal Premium.
For more information, go to www.3GunNation.com.