Mule Deer Foundation Invests Over $375,000 for Utah Conservation Projects in 2011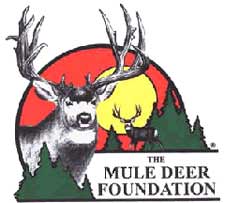 SALT LAKE CITY, Utah –-(Ammoland.com)- The Mule Deer Foundation (MDF) recently gave $376,889 to the Utah Division of Wildlife Resources to pay for completed habitat projects in the state during 2011.
There are some $60,000 worth of projects still pending. MDF raised this money through the sale of Utah Conservation Permits throughout the year.
The Utah Conservation Permit Program has successfully brought in millions of dollars since its inception.
Through the sale of coveted hunting tags, conservation groups such as MDF are able to raise money for their own projects, Utah state ventures, and literally hundreds of habitat enhancements in conjunction with partners such as the Natural Resources Conservation Service, Utah Dept. of Wildlife Resources, and other conservation groups.
A sampling of the 46 projects completed this year include:
Black Ridge Fuels Reduction and Vegetative Restoration
Sawmill Canyon Fire Rehab
Black Hill WMA Habitat Restoration and Access Management Project
Twin Springs Aerial Seeding and Vegetation Treatment
North Book Cliffs Wildlife Guzzler Project
Research for Wildlife Crossings in Utah, What Works and Determining Best Structure Designs
The Mule Deer Foundation looks forward to participating in the Utah Conservation Permit Program again in 2012. A listing of available tags is posted online at www.muledeer.org, under Hunting, Tags and Permits.
Some of the projects slated for 2012 include:
Logan Ranger District Aspen Treatment
Henefer-Echo WMA Fencing
Browns Canyon Guzzler
Moon Ridge Bullhog
Grimes Wash Pinyon/Juniper Removal
Fivemile Sagebrush Restoration, Kimball Valley
For more information about the Utah Conservation Permit Program or tags available for 2012, contact the Mule Deer Foundation at 1-888-375-DEER (3337).
Contact: Miles Moretti Tel.: 801-230-2207 E-mail: [email protected] (photo available)
About
MDF The Mule Deer Foundation is one of the key conservation groups in North America working to restore, improve and protect mule deer, black-tailed deer and their habitat. With a focus on science and program efficiency, MDF has raised millions of dollars and put countless hours on the ground for mission-critical projects. MDF acknowledges regulated hunting as a viable management component and is committed to recruitment and retention of youth into the shooting sports and conservation. Get involved at www.muledeer.org or call 1-888-375-DEER.