Pennsylvania Preliminary First-Day Bear Harvest Numbers Rank Second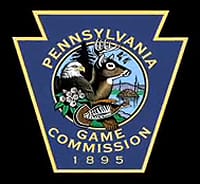 HARRISBURG, PA –-(Ammoland.com)- Pennsylvania Game Commission officials today announced that hunters started the 2011 black bear season by taking a preliminary harvest of 1,936 black bears in 52 counties on the first day of the four-day statewide bear season, which was the second season to open on a Saturday.
Archery bear harvest data still is being entered into the Game Commission's database, and won't be available for another week.
The 2011 first-day preliminary harvest compares with 1,751 in 2010, which also opened on a Saturday. Other first-day harvest totals were 1,897 in 2009; 1,725 in 2008; 1,005 in 2007; 1,461 in 2006; 2,026 in 2005; 1,573 in 2004; 1,454 in 2003;1,348 2002; 1,812 in 2001; and 1,691 in 2000.
The top 11 bears processed at check stations on Monday all had estimated live weights that exceeded 591 pounds. Jonathan E. Byler, of Ulysses, harvested the largest bear, which was a male that weighed in at 746 pounds (estimated live weight). The bear was taken in Ulysses, Potter County, at 1:45 p.m.
Other large bears (all estimated live weights) included: a 734-pound male, taken by Steven Camasta, of Lakeview, in Salem, Wayne County; a 733-pound male, taken by John J. Hennick, of Cambria, in Bell, Clearfield County; a 714-pound male, taken by Timothy Kiser, of Karns City, in Bradys Bend, Armstrong County; a 706-pound male, taken by Paul Hoyt, of Levittown, in Lehigh, Wayne County; a 629-pound male, taken by Jeremiah M. Bauer, of Hebron, Ohio, in Wharton, Potter County; a 618-pound male, taken by Matthew Hazelton, of Wellsboro, in Delmar, Tioga County; a 611-pound male, taken by Carl Eyler, of Greencastle, in Dublin, Huntingdon County; a 594-pound male, taken by Lindsay King, of Hillsgrove, in Hillsgrove, Sullivan County; a 591-pound male, taken by John Kissling, of Bernville, in Beaver, Columbia County; a 591-pound male, taken by John Vinton, of Waymart, in Canaan, Wayne County.
The preliminary first-day bear harvest by Wildlife Management Unit was as follows: WMU 1A, 8; WMU 1B, 39; WMU 2A, 2; WMU 2C, 141; WMU 2D, 82; WMU 2E, 42; WMU 2F, 200; WMU 2G, 612; WMU 3A, 160; WMU 3B, 181; WMU 3C, 50; WMU 3D, 146; WMU 4A, 55; WMU 4B, 46; WMU 4C, 41; WMU 4D, 108; and WMU 4E, 23.
The top bear harvest county in the state on the first day of season was Potter with 160, followed by Tioga, 149; Lycoming, 146; McKean, 120; and Clinton, 100.
County harvests by region for the opening day are:
Northwest: Warren, 83; Forest, 50; Venango, 28; Jefferson, 25; Clarion, 22; Crawford, 10; Butler, 7; Erie, 6; and Mercer, 4.
Southwest: Somerset, 57; Fayette, 40; Armstrong, 39; Cambria, 23; Westmoreland, 10; and Indiana, 7.
Northcentral: Potter, 160; Tioga, 149; Lycoming, 146; McKean, 120; Clinton, 100; Clearfield, 93; Elk, 82; Cameron, 65; Centre, 60; and Union, 18.
Southcentral: Huntingdon, 42; Bedford, 41; Juniata, 19; Mifflin, 17; Blair, 14; Fulton, 7; Franklin, 7; Perry, 7; Snyder, 6; and Cumberland, 1.
Northeast: Sullivan, 68; Wayne, 61; Pike, 50; Monroe, 31; Bradford, 29; Luzerne, 26; Susquehanna, 19; Carbon, 16; Wyoming, 16; Lackawanna, 13; Columbia, 10; and Northumberland, 1.
Southeast: Dauphin, 14; Schuylkill, 12; Lebanon, 3; Lehigh, 1; and Northampton, 1.