What's New at PRÓIS HUNTING AND FIELD APPAREL for November 2011
PrÓis Hunting & Field Apparel Partners With Outdoor Connection To Offer Recommended Women-Only Hunting And Fishing Expeditions.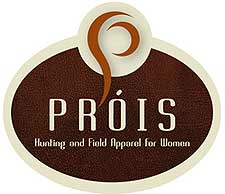 Gunnison, CO –-(Ammoland.com)- New Collaboration Kicks Off Próishuntingtrips.com
Leading manufacturer of performance-driven hunting clothing for women Próis® Hunting & Field Apparel is proud to announce its partnership with outdoor adventure planning agency Outdoor Connection.
The new alliance launches Próishuntingtrips.com, a go-to source for women's only hunting/fishing expeditions and female-friendly outfitters that have been tested and approved by the experts at Outdoor Connection.
Through this new partnership, Próis Hunting Trips will have the ability to help guide its customers in planning female-friendly hunts of a lifetime that have been pre-approved by the Outdoor Connection team.
In fact, Outdoor Connection prides itself on only offering world-class excursions they can proudly stand behind. This means the company spends time and money to inspect each and every destination and outfitter — ensuring customers receive an amazing experience from guides to lodging to food, and more.
"Outdoor Connection has a number of 'female friendly' hunts and outfitters in addition to a limited number of 'women only' hunts. To me, this is a great draw and it is a feature that I promote loudly and proudly," says Kirstie Pike, President/CEO of Próis Hunting & Field Apparel.

"I believe Outdoor Connection has recognized the fact that women are entering the sport of hunting at record rates. With that, they acknowledge that many women prefer the assurance of 'female friendly' camps and women's only hunts."
At Próishuntingtrips.com, women can choose from destinations around the globe, all of which have been tested and approved. Travelers will also receive packing lists, references, customs info and testimonials included with the service. So whether you're looking to bag some big game in the Rocky Mountains or cast your line for some trout in British Columbia, Próis Hunting Trips will handle all the planning — so you can focus on bringing home that trophy (that part's up to you!)
Próis was created for women, by women who refuse to settle for downsized men's gear or upsized children's gear. Each garment is created with the most technologically advanced fabrics available and a host of advanced features to provide comfort, silence and durability.
Their out-of-the-box thinking has resulted in amazing designs for serious hunters that have taken the industry by storm and raised the bar for women's outdoor apparel.
For more information about this partnership, or to book your next female-friendly excursion, please visit www.proishuntingtrips.com. For more information about Próis' innovative line of serious, high- performance huntwear for real women, contact: Próis Hunting and Field Apparel, 28001-B US Highway 50, Gunnison, CO 81230 · (970) 641-3355 · Or visit www.proishunting.com. To check out the latest updates on Próis field and pro staff and company news, visit the Próis blog at www.Proishunting.com/community/index.php. Become a fan on Facebook: www.facebook.com/group.php?gid=172754768618&ref=ts Follow Próis on Twitter: www.twitter.com/Proishunting.