READY AIM SOLD – Midwest Firearms Auction Company To Be Featured On Discovery Channel
What do you get when you mix family, firearms and millions of dollars of business?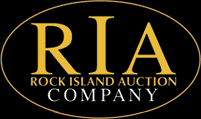 Rock Island, IL –-(Ammoland.com)- The father son team of Pat and Kevin Hogan show the world what it takes to turn a passion for history and collecting into an industry leading company based right out of the Midwest.
This Wednesday, November 30th, Pat, Kevin and Rock Island Auction Company will be the feature of a new pilot episode on Discovery Channel about everything that goes into firearms auctioning.
Each year Rock Island Auction Company auctions off more than 20,000 firearms, each of which has its own history. Whether it was presented to the Sultan of Turkey, the first gun off the Colt assembly line, or grandpa's sidearm from WWII, each gun has its story, and its price.
Collectors from around the world make their way to Rock Island, IL five times a year for their chance to take home their own piece of history, some paying close to a half million dollars for a single gun. And that's only half the story.
The show sheds light to what happens before each auction. The challenges of finding firearms to bring to auction, researching their history, and meeting the collectors, their stories, and what drives them to bid are brought to the public's eye. All while mixing in a bit of education on what makes a firearm that has been sitting in a closet for 30 years worth $125,000 or rifle thought to be $300,000 less than $40,000.
READY AIM SOLD will premiere on Discovery Channel Tuesday, November 29th at 10PM e/p.
Watch Clip Above or at : https://www.rockislandauction.com/ready_aim_sold
About:
Rock Island Auction Company has been solely owned and operated by Patrick Hogan. This company was conceived on the idea that both the sellers and buyers should be completely informed and provided a professional venue for a true auction. After working with two other auction companies, Mr. Hogan began Rock Island Auction in 1993. Rock Island Auction Company has grown to be one of the top firearms auction houses in the nation. Under Mr. Hogan's guidance the company has experienced growth each and every year; and he is the first to say it is his staff's hard work and determination that have yielded such results. Visit: www.rockislandauction.com