Wisconsin Hunters Rights Coalition Applauds Governor's Quick Action on Pro-Hunting Legislation
On November 4, 2011 the Governor signed two recently passed pro-hunting bills – SB 228 and SB 75 – into law.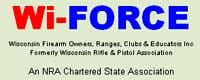 Wisconsin –-(Ammoland.com)- The Gun Case Bill, SB 228, just passed through the Assembly yesterday. No longer will Wisconsin have the most restrictive gun case law in the country.
It is currently illegal to lay an uncased and unloaded firearm on the trunk of your car as you tighten your boots.
"Thanks to the Governor's quick action in signing this legislation, hunters will be able to exercise safer handling of their firearms already in the 2011 deer season," said Carl Schoettel, Vice President of the Wisconsin Bear Hunters Association. "Wisconsin's gun case law has been completely impractical and has done nothing but penalize hunters for an irrelevant action, giving Wisconsin the reputation of being unfriendly to hunters."
SB 228 is very straightforward, allowing hunters to have uncased and unloaded guns, bows and crossbows in or on their vehicle. Placing the firearm on or in the vehicle is often the safest and most practical place. Hunters should not have to put their firearm in the snow as they get out their gun-case every time they get back to their vehicle.
The other bill being signed today – SB 75 – from Senator Terry Moulton (R-Chippewa Falls) and Representative Tom Tiffany (R-Hazelhurst), helps preserve the integrity of Wisconsin's deer hunting seasons by permanently ending Earn-a-Buck and making October T-Zone hunts into a rarity.
"We thank the Governor for recognizing that the intention of these programs was to help maintain our deer herds and all we have to show for it is an increase in tagging violations thanks to inaccurate registrations and population estimates" said SCI Central President Joe Koback.
The programs have been incredibly unpopular and the only measurable impact on hunting has been to turn some hunters away from the sport. The Department of Natural Resources' (DNR) own statistics show fewer hunters are hunting and less deer are being harvested while their own deer population numbers continue to grow.
The Hunters Rights Coalition is Wisconsin's only group 100% dedicated to advancing hunting opportunities and protecting the rights of Wisconsin's hunters. The Coalition is made up of several groups including: The Wisconsin Bear Hunters Association, Wisconsin Chapters of Safari Club International, and Wisconsin Firearm Owners, Ranges, Clubs, and Educators Inc.
For more information please contact our representative: Bob Welch 608-819-0150
About:
Wi-FORCE promotes and protects the shooting sports, hunting, and the lawful ownership and use of firearms in Wisconsin. We coordinate match schedules of member clubs, sanction the state championship matches, monitor and recommend legislation, and provide training and educational programs for our members, competitors and Wisconsin shooters. Wi-FORCE supports the interaction and education of all individuals and groups interested in the shooting sports and the natural right of citizens to own arms. Visit: www.wi-force.org