A Year Without Aaron Zelman
Washington, DC –-(Ammoland.com)- A year ago today, the founder of Jews for the Preservation of Firearms Ownership, Aaron Zelman, passed away.
His sudden absence from our midst sent a shock wave through the true hard core freedom community.
It is appropriate today to review the official tribute JPFO prepared in Aaron's memory. Please make sure you read the heartfelt comments others sent in to us.
It is also very appropriate to read the interview done with Aaron on the 20th Anniversary of JPFO's founding. So much about the man's motivation and great vision is found in this interview.
And finally, please take the time to review the list of JPFO's projects and accomplishments.
These were just some of the fruits of Aaron Zelman's labor on our behalf.
He was a lion for freedom. May G-d rest his soul.
Yours in Freedom, The Liberty Crew at JPFO
Protecting you by creating solutions to destroy "gun control"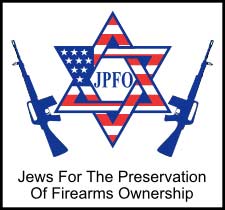 About:
Jews For The Preservation Of Firearms Ownership Mission is to destroy "gun control" and to encourage Americans to understand and defend all of the Bill of Rights for everyone. Those are the twin goals of Wisconsin-based Jews for the Preservation of Firearms Ownership (JPFO). Founded by Jews and initially aimed at educating the Jewish community about the historical evils that Jews have suffered when they have been disarmed, JPFO has always welcomed persons of all religious beliefs who share a common goal of opposing and reversing victim disarmament policies while advancing liberty for all.
JPFO is a non-profit tax-exempt educational civil rights organization, not a lobby. JPFO's products and programs reach out to as many segments of the American people as possible, using bold tactics without compromise on fundamental principles. Visit www.JPFO.org – Copyright JPFO 2011