CGF news from 2011. What big changes happened in Ventura County? PLUS: Lots of cool new CGF gear at the CGF store, and learn how shopping at Amazon.com helps support your Second Amendment rights! ~ The Calguns Foundation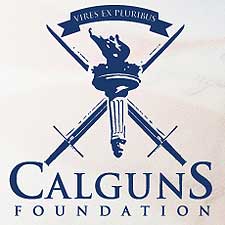 California –-(Ammoland.com)- I know that our fundamental right to keep and bear arms for self-defense is important to you.
This individual liberty ensures that we have an opportunity to protect our lives and those of our loved ones should the need arise. We Californians are all too aware of the many infringements of this enumerated right that regular, law-abiding people like us face on a daily basis, yet it's for this very reason the road to freedom runs through the Golden State.
2011 was a notable year for gun rights and our culture of respect for the constitution. Over the past twelve months we've made some significant advancements in Second Amendment issues and taken major steps forward in our fight for this critical civil right, including:
Taking the federal carry case of Richards v. Prieto to the Ninth Circuit Court of Appeals to strike the "good cause" and "good moral character" prior restraints in California law and secure the People's right to bear loaded firearms in public for self-defense on a "shall issue" basis (brought by attorneys Alan Gura and Donald Kilmer);
Filing a lawsuit in federal court challenging as unconstitutional California's "Assault Weapons" ban on common semi-automatic firearms, as well as Penal Code Section 12031 "(e) checks" (Richards v. Harris brought by attorneys Jason Davis and Donald Kilmer);
Filing a federal civil rights case against Santa Clara County Sheriff Laurie Smith for violating Mr. Tom Scocca's constitutional right to equal protection of the laws by denying him a firearms carry license while approving others (brought by attorneys Donald Kilmer and Jason Davis);
Supporting the long-running federal lawsuit Nordyke v. King as it heads back to an "en banc" (full court) panel in March, 2012 (brought by attorneys Donald Kilmer and Don B. Kates);
Winning the important carry license records case Calguns Foundation v. Ventura County Sheriff Bob Brooks, et al., and receiving $21,000 in court-ordered attorney fees (brought by attorney Jason Davis);
Creating and publishing the CGF Carry License Model Policy for law enforcement agencies;
Partnering with new Ventura County Sheriff Geoff Dean and his staff to create a vastly improved carry license policy and process, as well as the near-total adoption of the CGF Model Policy;
Forcing the Los Angeles District Attorney to dismiss false charges against a law-abiding person properly carrying an exposed firearm (defense by Jason Davis funded by CGF);
Causing San Francisco Sheriff Michael Hennessey to follow the law and establish a written carry license policy;
Filing a lawsuit against Merced County Sheriff Mark Pazin and the County of Merced over unlawful carry license policies (Rossow v. Merced brought by attorneys Jason Davis and Donald Kilmer);
Acquiring up-to-date statewide statistics on carry licenses from CA DOJ and publishing a comprehensive report down to the licensing authority level of detail;
Filing a lawsuit against the County of San Mateo over its pre-empted ban on the carry of firearms in parks (Early v. San Mateo County brought by attorney Donald Kilmer);
Numerous direct and indirect criminal defenses of innocent Californians;
And many, many more.
While this isn't anything nearing an exhaustive list of our efforts over the last year, we hope you'll see why we're excited about the future and how your generous donations have gone directly to the front lines of Second Amendment advocacy.
For more on these and other CGF cases, see our Litigation Past and Present Wiki page. 2012 will be full of new lawsuits, grassroots actions, and education campaigns to advance our rights, so be sure to sign up at our website and check back often for news and updates.
We've made it easier than ever to make a fully tax-deductible donation to CGF and hope you'll include us in your charitable giving. To contribute by check or credit card on a one-time or (hopefully!) recurring basis, please use our secure website donations page, also linked at at www.calgunsfoundation.org/donate. (If you're interested in sponsoring the Carry License Sunshine & Compliance Initiative and supporting our efforts to reform carry license policies in your county and across the state, please visit the Sponsorships section of the new CGF Store.)
Another exciting and easy way for you to contribute to CGF is to shop at Amazon… that's right, just by making your purchases at Amazon.com through our convenient direct link, up to 15% of the total purchase will be sent directly to CGF! Please do share this email with your friends, family, and fellow gun rights supporters; we're counting on you to get the word out that California gun owners have every reason to be optimistic about the future of our rights.
Advancing the Second Amendment and keeping government accountable to the People is a full-time job. With your help and support, 2012 can indeed be a monumental year for the right to keep and bear arms. Happy holidays, and best wishes to you and yours.
In liberty, Brandon Combs
Calguns Foundation
The Calguns Foundation (www.calgunsfoundation.org) is a 501(c)3 non-profit organization which serves its members and the general public by providing Second Amendment-related education, strategic litigation and the defense of innocent California gun owners from improper or malicious prosecution. The Calguns Foundation seeks to inform government and protect the rights of individuals to acquire, own, and lawfully use firearms in California.