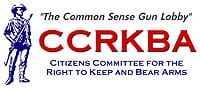 BELLEVUE, WA – -(Ammoland.com)- The Citizens Committee for the Right to Keep and Bear Arms today offered thanks and congratulations to 11 members of Congress who have signed on as co-sponsors to legislation that would withhold funding from the United Nations and prevent the United States from adopting any treaty that threatens national sovereignty or abridges the Second Amendment firearms rights of American citizens.
"The Second Amendment secures and protects our individual right to keep and bear arms," noted CCRKBA Chairman Alan Gottlieb. "Illinois Congressman Joe Walsh submitted his bill on Wednesday, and now he's been joined by 11 of his colleagues who deserve recognition."
Co-sponsors to HR 3594 are Texas Congressmen Joe Barton, K. Michael Conaway and Kenny Marchant; Georgia Reps. Lynn A. Westmoreland, Paul C. Broun and Phil Gingrey; North Carolina Rep. Howard Coble, Florida's Bill Posey, Iowan Steve King, South Carlina's Jeff Duncan and Kansas Rep. Tim Huelskamp. All are Republicans.
"CCRKBA staff has been directly involved in Walsh's effort," Gottlieb noted, "because the long-running campaign to adopt a global gun control scheme at the United Nations has gathered momentum under the Obama administration. We do not think it is any coincidence that global gun prohibitionists have ramped up their effort during the same period that the U.S. Supreme Court has issued two rulings affirming that the Second Amendment affirms an individual right to keep and bear arms.

"At a time when our constitutional freedoms are at stake," Gottlieb concluded, "the only way to prevent their erosion by international treaty is to put in place the legislative mechanism to cut the U.N. off financially. We're delighted that Walsh and nearly a dozen of his colleagues have the vision and intestinal fortitude to pursue that preventative measure. International gun grabbers need to keep their hands off of our Constitution, and out of our pockets."
With more than 650,000 members and supporters nationwide, the Citizens Committee for the Right to Keep and Bear Arms is one of the nation's premier gun rights organizations. As a non-profit organization, the Citizens Committee is dedicated to preserving firearms freedoms through active lobbying of elected officials and facilitating grass-roots organization of gun rights activists in local communities throughout the United States. The Citizens Committee can be reached by phone at (425) 454-4911, on the Internet at www.ccrkba.org or by email to [email protected]