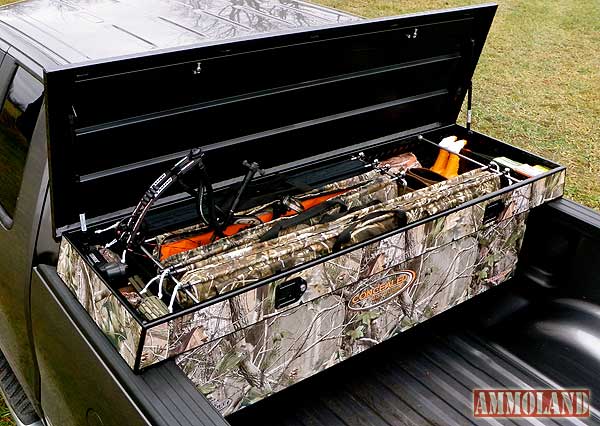 COLUMBUS, Georgia –-(Ammoland.com)-  Truck storage systems by Concealed Outdoors  provide you with a new way to transport, store and protect your bows, guns, outdoor gear and even your hunting dogs.
Included in the product lineup are camo truck tool boxes, chests, dog boxes and specially designed internal carrying cases.
Thanks to the Concealed Outdoors Truck Storage Systems, you'll never have to worry about your gun and bow cases sliding around in the back of your truck again, and your dogs will travel safely and securely to your hunting local.
The exterior of the truck storage systems feature an extremely durable, proprietary coating that displays either Realtree AP , Realtree APG  or Realtree MAX-4 . Each storage unit accepts Concealed Outdoors' innovative Bow and Gun Hammock suspended case systems for maximum protection and quick and quiet use.
By combining visual appeal and functionality, Concealed Outdoors has created the ultimate truck storage system designed with the avid outdoorsman in mind.
Features of the HD Elite Crossover (pictured):
DynamixCP camo coating for unmatched durability
Angled sides to match cab lines
Constructed with .080" diamond plate aluminum
Vertically oriented bow & gun cases for increased functionality over traditional cases
Bow/Gun Hammocks available in Realtree AP, APG, and Max-4
Also available: Hunter's Chests & Dog Boxes
About Realtree:
Realtree is the world's leading camouflage designer, marketer, and licensor with over 1,500 licensees utilizing the Realtree camouflage brand. Thousands of outdoor and lifestyle products are available in Realtree camouflage patterns. In addition, Realtree is committed to supporting individuals and groups that work to ensure our outdoor heritage, the conservation of natural places and the wildlife that resides there. In fact, Realtree is one of the nation's leading contributors to conservation groups such as Ducks Unlimited, the National Wild Turkey Federation, the Rocky Mountain Elk Foundation and others. Realtree promotes its products and relationships widely on Outdoor Channel and other television networks, as well as through Realtree.com and many other outlets. For more information, check out www.realtree.com.