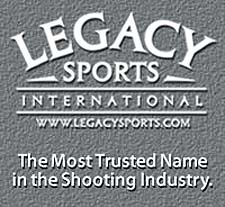 Reno, NV – -(Ammoland.com)- Legacy Sports International announces that their new Escort Waterfowl EXTREME semi-auto shotgun models will now be dipped with Realtree camo!
We have teamed with Realtree now, for our camo patterns, and will continue to provide HiVis sights and Hevi•Shot choke tubes to bring you an exclusive, high performance EXTREME waterfowl and all-around hunting shotgun!
First, the Escort Waterfowl EXTREME features the addition of non-slip grip pads on the forend and pistol grip that give you a superior hold in all weather conditions. These grip panels look great and are strategically placed to give you the wet weather grip you need to control your shot.
Escort shotguns also have SMART Valve gas pistons that regulate gas blowback to cycle every round – from 2.75 inch range loads through 3.5 inch heavy magnums.
Escorts also have FAST loading systems that allow one-handed round changes without changing aiming position.
Adding Realtree Max4 and AP camo patterns make these shotguns invisible in the field. We are also offering a HiVis MagniSight fiber optic, magnetic sight to enhance sight acquisition in low light conditions. Also included is a Hevi•Shot MR waterfowl extended choke tube to round out the perfect hunting machine.
Finally, these shotguns are available in Left-Handed models at no extra charge!
All of this at half the price of other, similarly featured shotguns!
Escort Waterfowl Extreme Features:
Realtree Max4 or AP Camo Patterns
Fast Cycling, Gas Actuated Action
FAST Loading System
SMART Valve Cycling System
Positive Trigger Guard Button Safety
Magazine Cut Off
Chrome Moly Lined Barrel Proofed for Steel Shot
Fiber Optic Front Sight and Hi•Vis MagniSight Add On
Synthetic Stock with Black Nylon Recoil Pad
4 + 1 Magazine Capacity
Six Choke Tubes: Sk, IM, M, IC, F and MR Waterfowl
Chambered for 3 Inch or 3.5 Inch Magnum Rounds
28" Barrel Length
Sling Swivel Studs Attached

About:
Legacy Sports International, LLC is an importer of firearms and shooting accessories. Bringing in high quality, reliable and affordable products for shooting and hunting enthusiasts is the mission of Legacy Sports' business. With well-respected brands including Howa and Puma rifles, Nikko Stirling optics, Escort shotguns, and Citadel handguns and shotguns. This is why Legacy Sports is known as "The Most Trusted Name in the Shooting Industry." For more information contact: www.legacysports.com