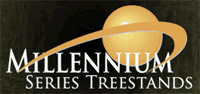 Pearl, Mississippi –-(Ammoland.com)- Stop by the Millennium Treestand booth #613 at the 2012 ATA show in Columbus, Ohio, to see the newest additions to Millennium's line of premium treestands.
Millennium is excited to introduce the M 25 HangOn, the M50 HangOn and the L360 Ladder Stand.
Known for producing the most comfortable stands on the market, Millennium continues to outdo itself with the creation of these three new stand models.
All three are designed to allow you to sit in comfort from sun up 'til sun down, increasing your chances for success.
Also, make sure you stop by the booth to see celebrities from Millennium's sponsored TV shows.
HeadHunter TV: Jan 11, 2pm
BCQ: Jan 10, 10am
Savage Outdoors: Jan 11, 10am
M25 HangOn Stand
The lightweight M25 HangOn Stand allows hunters to set up wherever the action heats up. Providing a deadly combination of comfort and roominess, the M25 offers remarkable maneuverability in any direction, while remaining rock solid under foot. The M25 is the ideal design for setting up a quick ambush in tight cover or for packing into unknown terrain.
Specifications:
Material: Steel
Capacity: 300 lbs
Weight: 14 lbs
Platform: W 25″ D 30″
Seat Size: W 20″ D 17″
Seat Height: 17″
M50 HangOn Stand
Lightweight, quiet and easy to use, the M50 HangOn features a convenient self-leveling seat and platform for an ideal hunting setup. The M50 accepts the CamLock Receiver system, which allows users to preset multiple stand locations for quick, easy hanging.
Specifications:
Material: Steel
Capacity: 300 lbs
Weight: 21 lbs
Platform: W 24″ D 30″
Seat Size: W 20″ D 17″
Seat Height: 17″

L360 Ladder Stand
The L360 Ladder Stand features a 360-degree swivel ComfortMax Seat and extra-large platform to give you plenty of viewing and shooting opportunities. Quickly and quietly cover the rear and sides of the stand so that your game doesn't get the drop on you. Add the B1 Blind for added concealment.
For more information visit them online at www.millenniumstands.com