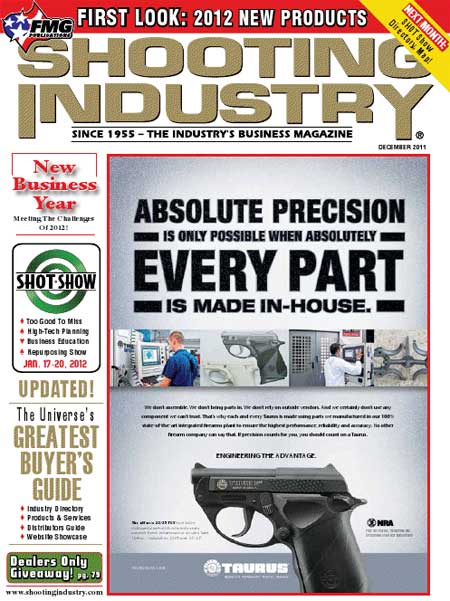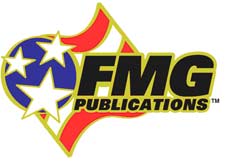 San Diego, Calif. —-(Ammoland.com)- Shooting Industry Magazine launches the 2012 New Business Year with the mega December issue, the first of two expanded editions.
"We have assembled a wealth of information in our December issue to help businesses throughout industry maximize the opportunities of 2012. Forecasts for the new year, new products, SHOT Show planning, our highly regarded Buyer's Guide and more are included in this valuable business edition," said Russ Thurman, Shooting Industry's publisher and editor.
Insights from industry leaders comprise "New Business Year: Meeting The Challenges Of 2012," in which companies forecast "healthy, if not increased, sales" for the coming year. Representatives from Crimson Trace, Hornady, Mossberg and Taurus offer their opinions on the coming year.
Part I of the 2012 New Product Showcase kicks off the new year buying season. The Showcase includes hundreds of new product offerings from manufacturers across the industry, featuring firearms, ammunition, optics and accessories. The 2012 New Product Showcase helps dealers determine what to offer customers in the months ahead in order to maximize their sales in 2012.
A SHOT Show preview is featured in the December issue, with information to help exhibitors and dealers maximize their show experience. Shooting Industry's preview helps dealers plot their course of action at SHOT Show or — if they are not attending — keeps dealers informed of what's being presented at the show.
The Universe's Greatest Buyer's Guide is also a vital part of the December issue. This extensive industry-wide directory serves as a yearlong reference to dealers nationwide.
The December issue includes a recent addition to Shooting Industry, the Dealers Only Giveaway. In December, Shooting Industry is offering dealers and their employees the chance to win a set of nine Panteao Productions "Make Ready with the Experts" DVDs, a package valued at $404.91. Visit www.shootingindustry.com/giveaway/ to enter to win.
Shooting Industry's all-digital edition is reaching more readers than ever. The interactive digital edition features flip-page technology to create a real-time, page-turning, online magazine viewing experience. The digital edition includes a number of bonus features, including additional, expanded content beyond the print edition, hotlinks of website addresses, links to videos and search options. To sign up for a free subscription, visit www.shootingindustry.com and click "Digital Editions."
The December issue of Shooting Industry Magazine, and the expanded January edition, are part of FMG's overall effort to help manufacturers, distributors, importers, dealers and others in the industry maximize the opportunities of the 2012 New Business Year. Visit FMG at SHOT Show, booth #16327, to receive a free copy of the December issue of Shooting Industry.
For more information, visit www.shootingindustry.com.