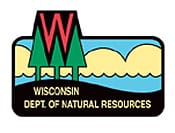 MADISON, WI –-(Ammoland.com)- After last week's colder temperatures and snowfall built up the anticipation of ice anglers, snowmobilers and skiers, warmer temperatures and rain this week dampened that excitement considerably.
Conservation wardens across the state are reporting that ice conditions have deteriorated considerably. Lakes that had 2 to 3 inches of ice now have areas of open water and ice just an inch or two thick along shorelines. Lakes in the far north are in the best condition, with some near shore areas having a solid 5 to 6 inches of ice, but areas out over deeper water and just a short distance away may only have 2 to 3 inches of ice.
Only far north central Wisconsin has any remaining snow cover, with the most being reported in northern Iron County at about 5 inches. Most areas are reporting only 1 to 3 inches of snow remain.
Prior to the warm-up anglers were reporting fair to good action on early ice for bluegills and some northern pike. Initial walleye success on northern lakes has been generally slow for the tip-up anglers, but a few nicer fish have shown up, including a couple of 25-inch walleye have been reported.
Ice had begun to form on both Lake Superior's Chequamegon Bay and on Lake Michigan's Green Bay, but with warmer temperatures and wind, most of that ice has broken up. Some anglers have returned to open water fishing, with reports of walleye being caught from boats on the Fox River and some good sauger action on the Mississippi River.
Reports were mixed from the statewide antlerless deer hunt, with some areas mostly in the southern part of the state reporting participation and deer registrations were up, while activity was limited in much of northern Wisconsin. Bow hunters are now taking advantage of this recent mild weather to spend more time on tree stands.
Large flocks of Canada geese are still being reported across much of the state. The exterior goose season is now closed, but the Mississippi River subzone remains open through Dec. 29. Turkeys are reporting to be forming into their larger winter flocks with as many as 40 to 50 being seen feeding on many agricultural fields in the mild weather.
With the mild weather, some late season hunters are reporting still seeing black bear out and about, and wildlife biologists confirmed a black bear denning up in Sauk County this week, the first time this has been confirmed in quite a few years.
There has been an abundance of divers ducks, especially golden-eyes and mallards, stil being seen because of the open water. Large numbers of migrating waterfowl has been seen along the shores of Green Bay, including one report of an estimated 12,000 mergansers.
And for people looking for last minute holiday gifts for the outdoors lovers on their lists, 2012 Wisconsin State Park admission stickers and State Trail passes are on sale now at all state park and forest offices and DNR Service Centers.
DNR Outdoor Report in Portable Document Format (Requires Adobe® Acrobat® Reader®)