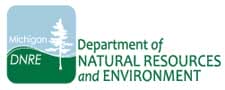 Michigan –-(Ammoland.com)- The Department of Natural Resources' Parks and Recreation Division is offering free camping this summer for outdoor lovers who volunteer as campground hosts at Michigan state parks, recreation areas or state forest campgrounds.
The Volunteer Campground Host Program allows individuals to camp in a state park or state forest campground at no charge in return for providing visitor assistance in the campground.
Campground hosts direct visitors to their campsites, answer questions about the park or state forest, arrange campground activities and perform light maintenance duties and other services, depending on the hosts' talents and interests. They can be individuals or teams. Retired couples, teachers and students, as well as families, are just some of the volunteers who have enjoyed spending their time as campground hosts.
Campground hosts must be at least 18 years old, provide services five days/30 hours per week (including weekends and holidays), serve a minimum of four consecutive weeks and furnish their own camping unit, equipment and personal items.
State park hosts must attend a two-day training session the end of April, 2012 at the Ralph A. MacMullan Conference Center in Roscommon. This training is not required of state forest campground hosts.
Campground hosts are chosen by park and forest managers who may require an interview or request additional information. Selection is based on the individual's familiarity with the state park or state forest system, his or her camping experience, special skills, availability, knowledge of the area and the needs of the specific park or forest campground.
Hosts are particularly needed during the busy camping season, which can begin as early as April in state parks in southern Michigan. Many of last year's campground hosts will be returning this year; however, vacancies still exist at park and forest campground locations throughout Michigan.
Information and applications are available from the DNR's website at www.michigan.gov/dnrvolunteers. Those interested in being a campground host at a state park should apply directly to the park of their choice.
For more information on campground host positions in state parks and recreation areas contact Pam Ames at 517-467-7401; for state forest campgrounds, please contact Ada Takacs at 989-275-5151, ext. 2049.
The Recreation Passport has replaced motor vehicle permits for entry into Michigan state parks, recreation areas and state-administered boating access fee sites. This new way to fund Michigan's outdoor recreation opportunities also helps to preserve state forest campgrounds, trails, and historic and cultural sites in state parks, and provides park development grants to local communities.
Michigan residents can purchase the Recreation Passport ($10 for motor vehicles; $5 for motorcycles) by checking "YES" on their license plate renewal forms, or at any state park or recreation area. Nonresident motor vehicles must still display a valid nonresident Recreation Passport ($29 annual; $8 daily) to enter a Michigan state park, recreation area or state-administered boating access fee site; these can be purchased at any state park or recreation area, or through the Michigan e-Store at www.michigan.gov/estore. To learn more about the Recreation Passport, visit www.michigan.gov/recreationpassport or call 517-241-7275.
The Michigan Department of Natural Resources is committed to the conservation, protection, management, use and enjoyment of the state's natural and cultural resources for current and future generations. For more information, go to www.michigan.gov/dnr.