By Chad Adams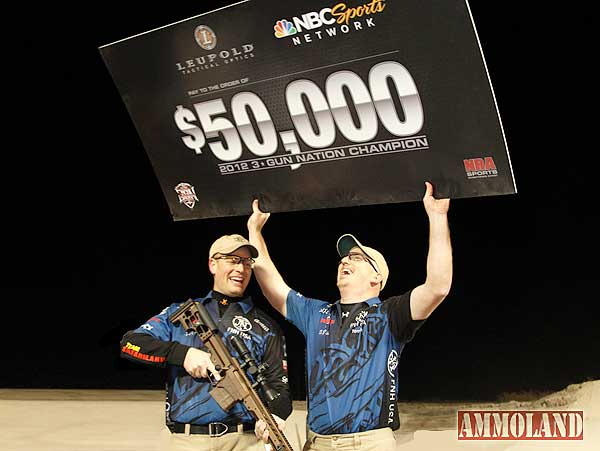 LAS VEGAS, NV –-(Ammoland.com)- Before the largest crowd ever to watch a 3-gun match, and with the largest payday in the history of the sport on the line, eight of the country's top 3-gunners stepped to the firing line at the Clark County Range here January 18.
With the famous Las Vegas strip illuminating the desert sky as the backdrop, the sport of 3-gun formally announced its arrival to the shooting industry, major media outlets and a national television audience.
And then one team stole the show.
Team FNH USA's Tommy Thacker defeated teammate Mark Hanish in the final round of the 3-Gun Nation Championship Finale, sponsored by Brownells, to become the 2012 3-Gun Nation Champion, winning an unprecedented $50,000 from Leupold Tactical Optics and NBC Sports Network.
"Unbelievable," Thacker said, trying to put the enormity of the moment into words. "The only thing I could think is I am so blessed and everything happens for a reason. The only thing I could think is to thank God. When you think about everything that happened, I don't know how else to describe it. Coming into this, I knew everything was right. I was in the zone more than I've ever been, and after the first run, I knew I was going to win this thing."

"On behalf of FNH USA, we would like to congratulate Tommy Thacker and Mark Hanish for their outstanding performance during the 3-Gun Nation Championship," said Ken Pfau, FNH USA Senior Vice President for Commercial and Law Enforcement Sales. "Since joining Team FNH USA, both Tommy and Mark have demonstrated time and time again that they are superior marksmen. Their dedication to the sport of 3-gun contributed to their success in this final match and showcases FNH USA's commitment to the sport of 3-gun."
Leupold Tactical Optics and the newly launched NBC Sports Network teamed up to sponsor the $50,000
Cash Prize, the largest cash payout in the history of 3-Gun competition.
Thacker stormed out of gate with an opening round win over Phil Strader, getting off the eight-target shotgun station first before widening the gap with a strong rifle run across six steel plates. Thacker struggled on the 12-plate pistol rack before pausing for a moment, taking a breath, and regaining his composure to finish strong and advance to the semi-finals.
"I was pretty amped up for the first run," Thacker said. "I was listening to the music trying to stay in the groove and relax. I was thinking 'don't let this stuff get to you. It's a mental game now. Your skill set is not going to change.' I played it over and over in my mind; I knew what I had to do."
There, Thacker met up with Jeff Cramblit, a skilled 3-gun veteran who looked strong in his opening-round run. But Thacker again was dialed in and pulled ahead on a strong rifle run, building a lead he maintained through the pistol rack and on to the stop plate, setting up the Championship showdown with Hanish.
For Hanish, the opening round began with a win over one of the game's toughest young competitors, U.S. Army Marksmanship Unit's Tyler Payne. Hanish jumped out to an early lead with a blistering shotgun run, while Payne ran his shotgun dry and was forced to reload from the staging box, helping Hanish build a huge lead early in the run. Hanish remained steady throughout the rifle and pistol arrays and was first to the stop plate to advance to the semi-finals.
There, Hanish met up against SureFire's Mike Voigt, one of the most dominant shooters in 3-gun history. Hanish again jumped out with a fast shotgun run, while Voigt suffered a catastrophic mistake when he inadvertently left a shotgun popper standing. Not noticing the fault until after abandoning his empty shotgun and running halfway to the rifle position, Voigt scrambled back to the shotgun, made quick work with the rifle, then charged into the pistol rack at a furious pace. However, the lead was too much to overcome, as Hanish knocked over the stop plate to advance to the finals, setting up the showdown with his teammate, co-worker and friend.
"I was happy and excited for Mark to be there," Thacker said. "At that point, it was win-win. I had nothing to lose. Mark was my greatest fear coming into the competition. It basically came down to what I had visualized."
In the best-of-three final round, Thacker again looked dominating in the first bout, staying even with Hanish on shotgun and surging ahead on rifle before finishing strong on MGM's Propeller plate rack, a wicked spinning target mechanism that tested the competitors' accuracy and timing.
"After the first run, everything was in slow motion," Thacker said. "When I got to the end and knocked down the stop plate on that first run, I knew I couldn't be beat. I knew there was nothing going to stop me."
After a brief break in the action, Thacker and Hanish again stepped to the starting box as the crowd noise began to build with each moment ramping up the anticipation. The horn screamed before each competitor hurled themselves toward the shotgun station. Hanish, as he had the entire night, leaned into the shotgun and ripped off rounds in seemingly one continuous bark of the SLP. Thacker dropped down with an FN SCAR into a barricade supported position and surgically fired Federal Tracer ammunition through the night, with fiery explosions bursting on disappearing rifle steel. And then for a moment, two Propeller plate racks spun in near slow motion before Thacker's final plate stuck into the sand. Thacker then transitioned to the stop plate, squeezed the FNS trigger, and the bullet found it's mark as the crowd erupted.
"When the stop plate fell on the last run and I knew that I had just become the 2012 3-Gun Nation Champion, I bowed my knee to give glory to God for my victory," Thacker said. "Philippians 4:13 says 'I can do all things though Christ which stregtheneth me.' I am a true testament to that. My faith and mental preparation was the key to the victory."
For finishing second, Hanish was awarded a Barrett MRAD rifle fitted with a Leupold scope and BORS system, along with a check for $2,500 from Brownells.
Before the final run, Mike Voigt overcame a pulled leg muscle to narrowly edge out Jeff Cramblit in what was arguably the most heart-stopping bout of the night. For his third place finish, Voigt received a check for $5,000 from Timney Triggers. Cramblit's fourth place finish netted him a $2,000 check from Stag Arms, along with a Stag Arms 3G Competition rifle.
Cramblit advanced to the semi-finals with an opening round win over Rustin Bernskoetter, one of the game's brightest new stars. Voigt's tournament began with a victory over Taran Butler, one of 3-gun's most dominant Tactical Optics competitors.
For advancing to the 3-Gun Nation Championship Finale, Butler, Bernskoetter and Strader will each received a check for $2,000 from DoubleStar, while Payne earned a $2,000 payout from Shooters Connection.
The Las Vegas payouts totaled $67,500, with an additional $15,000 in product value. In all, 3-Gun Nation paid out more than $150,000 in cash prizes on the 2011-2012 3GN Tour.
The 3GN Championship Finale, sponsored by Brownells and sanctioned by NRA Sports, was the culminating event of the 2011-2012 FNH USA 3-Gun Nation Tour, Presented by SureFire. Spanning 10 major 3-gun events all across the country, more than 1,500 competitors earned scores toward the 3GN Standings. From there, the top 50 competitors qualified to the 3-Gun Nation Championship in November, a one-day Tactical Optics-only match that comprised the deepest field of 3-gun talent ever assembled. The top 16 shooters then battled in an elimination Shoot-Off, with the Final 8 advancing to the Las Vegas Rumble On the Range.
---
About FN:
FN America, LLC, is a U.S. subsidiary of FN Herstal, S.A., a global leader in the development and manufacturing of high-quality, reliable firearms for military, law enforcement, and commercial customers worldwide. Headquartered in McLean, VA, with manufacturing operations in Columbia, SC, FN America is passionately committed to providing its customers with a portfolio of products, training, and support services under the FN brand name that enhance their performance and safeguard their lives.