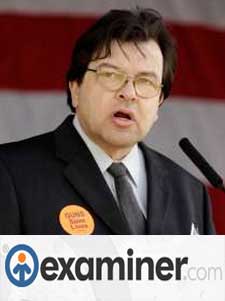 USA –-(Ammoland.com)- "For Bob McDonnell, VP Talk Won't Go Away," a November Roll Call headline declares.
"GOP presidential candidate Mitt Romney…may choose Virginia Gov. Bob McDonnell…as his running mate if he secures the nomination next year," the accompanying photo caption reads.
But why settle for Number Two? There's a "Draft McConnell" website (the site owner behind the move is masked by proxy domain registration) claiming:
"We Don't Have to Settle
"A recent report by Rhodes Cook, Senior Columnist at the Center for Politics, shows that it's not too late for a Republican to enter the 2012 Presidential race. Bob McDonnell has a strong conservative record, and he can win the general election. Sign the petition to encourage him to run today!"
And in the "Bob on the Issues" sidebar section, we see this prominent position:
"Pro-Gun Record"
Indeed, on his gubernatorial campaign website, we see:
"National Rifle Association Endorses Bob McDonnell for Governor…
"…Chris Cox, NRA Institute for Legislative Action executive director, noted, "'Bob McDonnell is an effective leader for Virginia hunters and gun owners. His opinions and actions as an attorney general have protected and enhanced the Second Amendment rights of law-abiding Virginians. His zero-tolerance attitude toward criminals makes him the best choice for governor. We ask every Virginia hunter, gun owner and Second Amendment advocate to vote McDonnell for Governor this November.'"
What's not to like?
How about this?
Continue reading on Examiner.com http://www.examiner.com/gun-rights-in-national/will-va-s-mcdonnell-be-an-acceptable-candidate-for-gun-owners
About David Codrea:
David Codrea is a long-time gun rights advocate who defiantly challenges the folly of citizen disarmament. He is a field editor for GUNS Magazine, and a blogger at The War on Guns: Notes from the Resistance. Read more at www.examiner.com/gun-rights-in-national/david-codrea