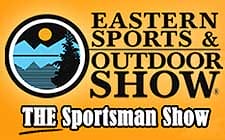 HARRISBURG, PA – -(Ammoland.com)- Dave Kaleta (Shamokin, PA), founder and president of Habitat for Wildlife, Inc., has received the 2012 Eastern Sports & Outdoor Show Humanitarian Award for his continued efforts to improve the ecology of Northeastern Pennsylvania's coal region.
Habitat for Wildlife, Inc. is an organization of conservation-oriented people dedicated to restoring, protecting and enhancing the wild areas of Northeastern Pennsylvania's Anthracite region. One of their most significant contributions was the establishment and development of the Alaska Site in Northumberland County. Their efforts have turned what was once an area of coal banks, strip mines and illegal dumping sites into a thriving habitat for grouse, woodcock, deer, turkey, bear and other non-game species.
Over the last 12 years, Habitat for Wildlife has planted more than 43,000 seedlings and 68 acres of food and cover plots on both reclaimed and non-reclaimed mine lands. They have removed thousands of illegally dumped tires and hundreds of tons of trash from illegal dumpsites. These efforts have reduced the negative visual impact to this economically depressed area, reduced the number of disease-carrying mosquitoes and rodents, and greatly reduced the risk of ground water pollution.
Last year, Habitat for Wildlife conducted an experimental brook trout stocking in Carbon Run, a tributary of Shamokin Creek. If successful, it is hoped that these trout stockings will help boost the attitude of local (as well as other) people toward the coal region's environment.
Habitat for Wildlife also works on environmental improvement projects in tandem with other area conservation groups, including: Shamokin Creek Restoration Alliance, Woodcock Limited of Pennsylvania, and Pheasants Forever.
The Eastern Sports & Outdoor Show Humanitarian Award is presented annually to an individual or organization in recognition of their demonstrated commitment to using their knowledge of the outdoors and outdoor sports to improve and support their community.