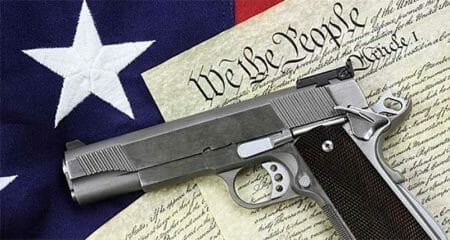 North Carolina –-(Ammoland.com)- Grass Roots North Carolina has struck another blow in the battle to defend your rights. But before I tell you about it, let me introduce GRNC's sister organization, Rights Watch International.
We created Rights Watch to be our legal action arm, filing or defending against lawsuits to expand your Second Amendment freedoms.
And now for the first time, we are bringing Rights Watch to bear by putting cities on notice that if they flaunt our concealed carry law, they will face consequences; that, in fact, those cities will face you.
As you probably know, various local politicians are not only endangering their citizens, but violating state law by deliberately misinterpreting our recently-passed law for concealed carry in parks.
That's right: The same cities that would cheerfully prosecute you for unlawful activities are themselves deliberately breaking the law.
'Cities gone wild'
Effective December 1, House Bill 650 expanded concealed carry into all state and municipal parks. But a weakening amendment to the bill allows cities to ban guns in "recreational facilities" which are defined as only "a playground, an athletic field, a swimming pool, and an athletic facility."
Unfortunately, anti-gun local politicians bent on subverting your rights are torturing those definitions to include whole parks, hiking trails, greenways, lakes, even dog parks. One idiot even asked the UNC School of Government if they could ban guns at whole lakes by calling them "swimming pools."
Rights Watch puts Winston-Salem on notice
The anti-gun zealots of the Winston-Salem City Council are among the worst offenders, banning guns at lakes, 52 entire parks, and 10 greenways.
But in February 3 letter, Rights Watch put Winston-Salem's city attorney and Mayor Allen Joines on notice that flouting the law will not be tolerated:
"The legislative history and circumstances surrounding the adoption of HB 650 clearly indicate that the expansive definitions of 'recreational facility' and 'playground' in Ordinance 4735 not only fly in the face of the plain meaning of those terms, but wholly depart from the intent of the legislature."
The Rights Watch letter also warns:
"Rights Watch International has identified nearly a dozen Winston-Salem residents willing to engage as plaintiffs in litigation to bring the City of Winston-Salem into compliance with North Carolina law. The only question is whether the City will amend Ordinance 4735 to conform to common sense and the intent of § 14-415.23, or whether a court will order it to do so after costly and distracting litigation. Please advise me, within ten (10) business days, of which course the City chooses."
Read the full letter at: https://rightswatch.org/winston-salem-letter
Rights Watch Legal Offense Fund
Clearly, the ball is in Winston-Salem's court. The Winston-Salem Journal and several TV stations just ran news features on the looming lawsuit.
But given the city council's anti-gun zealotry, we fully anticipate having to take it to the next level: Interviewing the plaintiffs, retaining a lawyer, and filing suit. To that end, we are in discussions with one of the state's best gun rights lawyers.
But as I teach in my legislative seminars, litigation is a weapon of last resort. It is difficult, time-consuming and, because it requires legal expertise, litigation is expensive.
That's why we need your help. One GRNC supporter recently emailed to demand we file suits to stop the dozens of cities willfully misinterpreting the law. I responded that Rights Watch will file lawsuits, but only if you can contribute to make those lawsuits happen.
Will you sit idly by while anti-gun zealots on city councils flout the law, endanger citizens, and laugh at you while they do?
Or will you do something about it?
Contribute to the Rights Watch Legal Offense Fund
With your help, GRNC and Rights Watch will defeat anti-gun city governments and expand concealed carry throughout the state. As always, please accept my thanks for your vigilance in defending our rights.
Armatissimi e liberissimi,
F. Paul Valone
Executive Director, Rights Watch International
P.S. In case you don't receive html alerts, go to: https://rightswatch.org/donate.html
---
About Grass Roots North Carolina/Forum for Firearms Education

Grass Roots North Carolina/Forum for Firearms Education is a non-profit, all volunteer organization devoted to educating the public about trends which abridge the freedoms guaranteed by the Bill of Rights, and engaging in grass roots activism to preserve those freedoms. Formed in 1994 to conduct a highly successful rally for the Second Amendment, GRNC has gone on to conduct projects like "Remember in November: A Gun Owner's Guide to Voting," bringing concealed carry to North Carolina. Visit: www.grnc.org