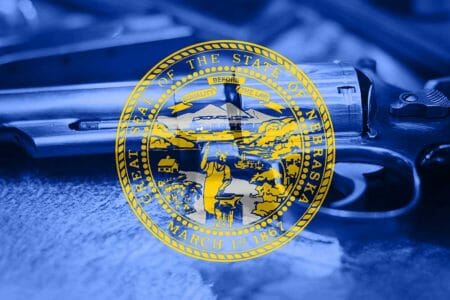 OMAHA, NE –-(Ammoland.com)- Sarah McKinley, an 18-year-old Oklahoma mother who was forced to shoot an armed intruder in her home last New Year's Eve, has released an open letter to Nebraska residents that supports the efforts of the Nebraska Firearms Owners Association (NFOA) and other citizen groups in trying to pass a Victim Protection Act in Nebraska.
A copy of her letter is below and can also be found at ProtectVictimsNOW.org.
On the evening of January 31, 2011, Mrs. McKinley and her infant son were home alone, as her husband had passed away just a week before after a painful fight against cancer. Two stalkers had chosen her as their victim and were outside her home banging on doors trying to enter.
She called 911 for help, pushed the couch to barricade the door, grabbed her shotgun and moved with her son to another room. While the 911 dispatcher was not able to answer her question whether it was okay to shoot the intruder if he came through her door, the dispatcher did tell her to do whatever was needed to do to protect her baby. After the man forcibly entered her house, Sarah did just that. When the police arrived, they found the intruder dead on the couch barricade and clutching a knife.
"Mrs. McKinley is fortunate that she and her son survived that terrible home invasion without any physical harm," NFOA President Andy Allen stated after reading Sarah's letter. "She's also lucky that this happened in Oklahoma, where state laws protect her not just from criminal charges but also against being sued by the intruder or his family looking to make a quick buck. Here in Nebraska she wouldn't enjoy immunity against civil lawsuits if the criminal intruder or his family wanted to sue her for injuries received while she protected herself and her infant."
Currently there is a bill, LB804 the Victim Protection Act, which would protect victims in Nebraska with immunity against civil lawsuits by criminals when the victim must use force to defend themselves or their family. Unfortunately a handful of Senators in the Nebraska Legislature's Judiciary Committee are obstructing LB804 from advancing to the general assembly for debate and a vote. Concerned citizens are encouraged to call and write their Senator to ask them to demand the Judiciary Committee allow an open discussion of the bill on the floor by all Senators representing all of Nebraska's residents. Additionally, more information on LB804, the Victim Protection Act, can be found at ProtectVictimsNOW.org, an educational campaign sponsored by the NFOA.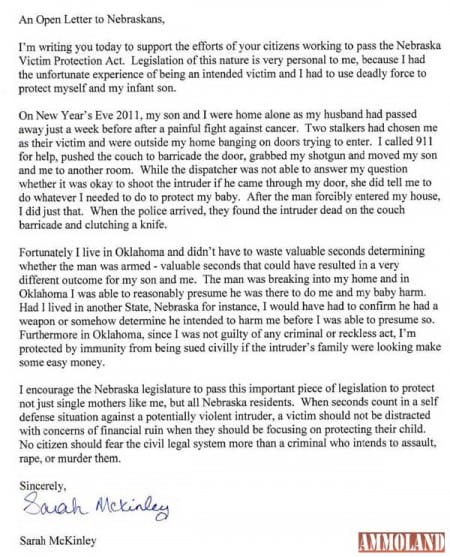 ---
About Nebraska Firearms Owners Association
Nebraska Firearms Owners Association is the largest firearms rights organization in the state of Nebraska, and membership is free for all Nebraskans concerned with their right to keep and bear arms; simply sign-up at www.nebraskafirearms.org/join. We are local firearms owners who have a personal interest in protecting firearms owners' rights in Nebraska.