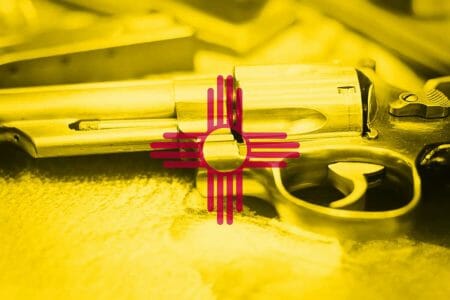 USA –-(Ammoland.com)- Part One: An economic Waco
A member of a gun dealer family arrested over half a year ago for allegedly knowingly selling firearms and ammunition to Mexican cartel buyers has been released on bail, Jeff Knox of The Firearms Coalition reported over the weekend. [Update–per Knox: "Correcting my previous report, Terri Reese has not yet been released from jail.  The judge granted bail on Friday evening (2/24) but Terri will not be released until an appraisal and title search can be completed for the property being put up to secure her bond. Bail was set at $2 million and she will be released on a $100,000 bond. Family and friends are stretching to cover that so it could limit the possibility of finding the money necessary if any of the other Reeses are ever granted bail, but for now the good news is that Terri should be released by the end of the week or early next week if everything goes relatively smoothly. "]
Terri Reese, wife of New Deal Shooting Sports owner Rick Reese, a Deming, NM gun shop, made the bid for release earlier this month. Per Knox:
Still Awaiting details, but the judge granted bail last night and family members were on their way to pick her up this morning. Bail was expected to be $2 million with a bond of $200,000.  Those numbers would mean that family and friends would be stretched to the limit to secure the bond, and this reduces the possibility of finding the money necessary if any of the other Reeses are ever granted bail, but for now the good news is that Terri is out of jail for the first time in almost 6 months.
Knox was the first national gun rights correspondent to notice the Reese situation back in December, when he reported "US Attorney Ken Gonzales indicated that he is going to seek asset forfeiture of the Reese's home and 25 acre property (including the shooting range on the property which he leased to various law enforcement agencies), all of the cash and valuables seized, their vehicles, and a monetary judgment of at least $36,000 from whatever assets might be left."
Additionally, Knox noted" the judge's refusal to establish bond for" the Reese family, and noted a statement from the U.S. Attorney that those following the government's own culpability in the Fast and Furious "gunwalking" will find, to put it mildly, ironic:
Those who sell firearms knowing that they will be illegally smuggled into Mexico to arm Mexican Cartels share responsibility for the violence that has been devastating Mexico.
Evidently, when private actors are the suspects, gunwalking ceases to be regarded as "botched" gun sales, strictly a personnel matter, or a paranoid right-wing conspiracy, and its investigation ceases to be regarded as a partisan witch hunt.
Knox followed up his initial post on Feb. 16, when he reported "Rick Reese had planned to retire from the business and close the store at the end of 2011 in order to make a run for sheriff of Luna County."
Also of relevance:
Plans to have the entire family represented by one attorney were blocked by the court on the grounds that an attorney representing all of the Reeses would not be able to advise one or more to cut a deal in exchange for testimony against the others. That decision meant that private attorneys for each family member would incur an initial cost of about $100,000 – money the Reeses don't have since all of their assets, from the inventory of the stores, to cash, bank accounts, vehicles, land and the coin collection Rick Reese has been building since he was a child, were all seized by the feds and are being sought in a civil forfeiture suit by the government.
This is a familiar maneuver employed by the government, bringing its unlimited resources to bear against people it in turn renders financially defenseless—what Mike Vanderboegh of Sipsey Street Irregulars has pegged "an economic Waco."
Next: Part Two: The family speaks
Gun Rights Examiner has been in contact with a family spokesperson and will share our correspondence.
---
About David Codrea

David Codrea is a long-time gun rights advocate who defiantly challenges the folly of citizen disarmament. He is a field editor for GUNS Magazine, and a blogger at The War on Guns: Notes from the Resistance. Read more at www.DavidCodrea.com.