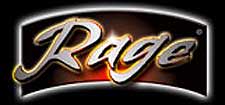 SUPERIOR, Wis. –-(Ammoland.com)- With the introduction of the new Rage 2-blade and 3-blade Turkey Broadheads, archers in search of the mighty gobbler now have the perfect broadheads to bring Tom home.
These rear-deploying broadheads are designed with extra-long blades and extreme cutting diameter for massive entry holes and quick kills.
Designed exclusively for turkey hunting, the 2-blade Turkey Broadhead has a 2.25-inch cutting diameter, and the 3-blade Turkey Broadhead has a 1.75-inch cutting diameter. Both broadheads feature 1.25-inch blade edges.
The two new Rage Turkey Broadheads offer the ShockLockä blade-retention system. This proprietary system allows the blades to lock in place by using an O-ring that acts as a shock absorber for the blades. They remain locked in place until the moment of impact.
The new Rage Turkey Broadheads are easily recognizable by their green ferrule design. They will be available at retailers nationwide this spring, and the MSRP for a Rage 2-blade Turkey Broadhead 3-pack with practice head will be $44.99. And the Rage 3-blade Turkey Broadhead will be $44.99 for a 3-pack with a practice head.
Don't leave the woods empty handed this Spring. Go in prepared with the new Rage Turkey Broadheads, and return with your bird!
Rage Outdoors is headquartered in Superior, Wis. For more information on the full line of revolutionary SlipCam Rage Broadheads and the Ghost Quiver, contact Rage Outdoors, 1230 Poplar Avenue, Superior, WI 54880; call (715) 392-2860; or visit www.ragebroadheads.com.