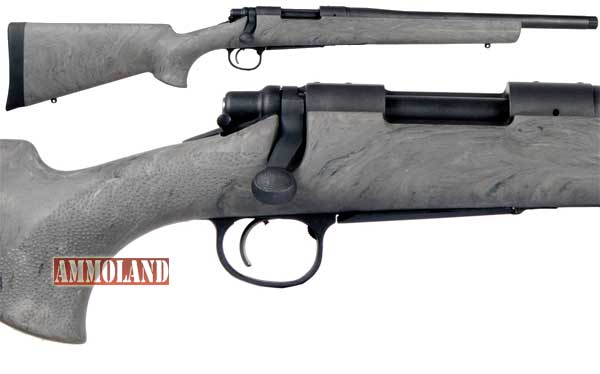 Madison, NC – -(Ammoland.com)- Remington is proud to announce the Model 700 SPS (Special Purpose Synthetic) Tactical 300 Blackout rifle.
Chambered for the incredibly popular 300 AAC Blackout, this new rifle features the time-proven Model 700 action and is designed to impress from the bench or in the field at a very affordable price.
A long-time favorite of both military and police units, the Model 700 offers the legendary accuracy and unfailing performance you've come to expect.
At the core of the Model 700 SPS Tactical 300 Blackout is the machined solid-steel, cylindrical Model 700 receiver design ensuring uniformity, strength and solid bedding area. Unique to this precision rifle is the 16 ½ -inch, heavy-contour clean barrel threaded to accept AAC and all 5/8 x 24 threaded flash hiders, muzzle breaks and suppressors.
The tactical-style carbon steel, hammer-forged barrel is the perfect balance between handling in tight spots and delivering pinpoint accuracy. With a twist rate of one in seven inches, this rifle is optimized for accuracy. These specialty, bolt-action rifles are shipped with a thread protector installed.
The rock-solid barreled action is bedded in a Hogue Over Molded Ghillie Green pillar bedded, synthetic stock with a semi-beavertail fore-end for added stability. The soft-touch, sure-grip stock is extremely comfortable for extended, long range shooting and assures a positive grip in both stressful situations and inclement weather. The dual point pillar bedding guarantees a solid interface between the action and stock to help insure cold bore accuracy and prevent point-of-impact shifts. Add Remington's X-Mark Pro externally adjustable trigger, designed to "break-like-glass" and set at 3 ½ pounds from the factory, and this rifle delivers surgical-like accuracy.
Other key features include a drilled and tapped receiver for the addition of optics; distinctive, laser-engraved "300 AAC Blackout 1:7" roll mark; convenient hinged floorplate magazine with 4-round capacity and a non-reflective, black oxide external metal finish; and sling swivel studs.
The Model 700 SPS Tactical 300 Blackout is the perfect tactical bolt-action rifle and available at a very affordable price. Suggested retail price is $817.31.
Model: 700 SPS Tactical 300 Blackout
# 84205
Caliber 300 AAC Blackout
Mag. Capacity 5
BBL Length 16 ½ Inches
Barrel Type Carbon Steel
Sights None (Drilled & Tapped for Scope Mounting)
Rifling Twist 1 Turn in 7 Inches
Receiver Finish Matte Blue
Overall Length 35 ¾ Inches
Length of Pull 13 3/8 Inches
Stock Material Synthetic
Stock Finish Overmolded Ghillie Green
Avg. Weight 7 Pounds
MSRP $ 817.31
---
About Remington Arms Company

Remington Arms Company, LLC, ("Remington") headquartered in Madison, N.C., designs, produces and sells sporting goods products for the hunting and shooting sports markets, as well as solutions to the military, government and law enforcement markets. Founded in 1816 in upstate New York, the Company is one of the nation's oldest continuously operating manufacturers. Remington is the only U.S. manufacturer of both firearms and ammunition products and one of the largest domestic producers of shotguns and rifles. The Company distributes its products throughout the U.S. and in over 55 foreign countries. More information about the Company can be found at www.remington.com.