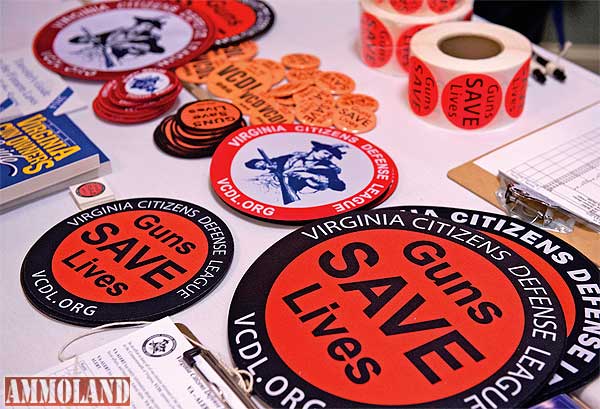 Covington, VA –-(Ammoland.com)- ACTION ITEM: We need to make sure our Senators AND Delegates understand that they MUST fix the current situation with firearm background checks.
Either take the State Police out of the loop and use the FREE federal NICS system OR fund the State Police check and require that such funding must only be used to hire people to do the background checks.
AND the State Police computer system must have redundancy so that it does NOT go down for more than a few minutes a YEAR, just like Visa, MasterCard, and American Express computers.
LET'S ROLL!
LEGISLATIVE UPDATE
The following gun bills passed the House today and head to the Senate:
HB 20, Delegate Wilt, protects the right to carry and transport firearms during an emergency (the matching Senate bill, SB 245, Senator Obenshain, has already passed the Senate)
HB 22, Delegate Cole, provides that a locality must have an ordinance for gun buy-ups before they and do buy-ups and that such guns should be sold to dealers if possible
HB 26, Delegate Cole, provides a civil for of $25 (instead of the current Class 1 misdemeanor) if a CHP holder does not have their permit with them while carrying concealed
HB 940, Delegate Lingamfelter, repeals One Handgun a Month
On Wednesday in the Senate Courts of Justice committee, anti-gun Senator McEachin's SB 379, which outlaws privates sales of handguns unless they go through a dealer, was killed by an 8 to 6 vote!
Senator McEachin's other anti-gun bill, SB 648, which adds yet another penalty on a gun owner for being in possession of a firearm while under the influence of alcohol, failed to report by a tie 7 to 7 vote. WE ARE WATCHING THIS BILL AS IT COULD BE RESURRECTED. The original vote killed the bill outright, but then there was some shenanigans behind the scenes and a few votes were changed to make the count 7 to 7 (the committee chair, Senator Norment, was one of the changed votes). The significance is that the vote could be reconsidered in the near future and the bill could potentially pass out of committee.
Also, Senator McDougle has a bill, SB 435, that our attorney does NOT like. It changes the language on the law against making a false statement on the handgun purchase forms. The bill throws a wider net and that is not a good thing. Watch for more on this bill soon.
On Thursday, February 2, the House Militia, Police and Public Safety subcommittees #2 and #1 will meet and consider gun bills.
Subcommittee #2 meets at 7:30 AM 🙁 in the 4th Floor West Conference Room and will consider HB 237, Delegate Cosgrove's HB 237, which will allow long guns background checks to be run through the federal NICS system to take the load off the Virginia State Police. SEE ACTION ITEM BELOW.
Subcommittee #1 meets at 5 PM in the 4th Floor West Conference Room and will consider the following bills:
HB 25, Delegate Cole, protects concealed handgun permit info from dissemination by Circuit Court Clerks. VCDL strongly supports this bill
HB 592, Delegate Merricks, exempts permit holders from a state background check on the purchase of a firearm. VCDL supports this bill, but considers Delegate Gilbert's HB 859 to be a superior bill
HB 754, Delegate Cline, removes fingerprinting as local option for getting a CHP. VCDL strongly supports this bill
HB 929, Delegate Lingamfelter, gives RETIRED Commonwealth Attorneys the special carry privileges of an off-duty police officer. VCDL opposes this bill – a CHP would work just fine for retirees. If there is some concern that the retirees can't protect themselves EVERYWHERE they go with a CHP, THEN LET'S FIX CHPs SO THAT THEY ARE GOOD EVERYWHERE!
---
About Virginia Citizens Defense League, Inc. (VCDL)

VCDL is an all-volunteer, non-partisan grassroots organization dedicated to defending the human rights of all Virginians. The Right to Keep and Bear Arms is a fundamental human right. Visit: www.vcdl.org