Joe Alessandrini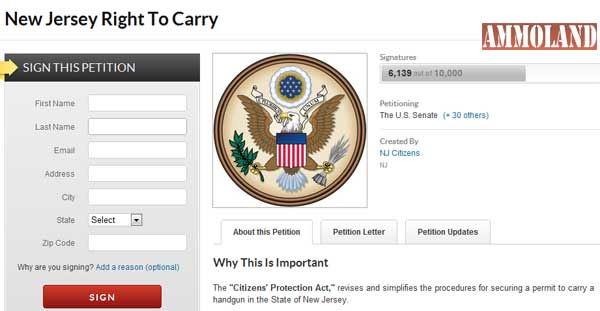 Manasquan, NJ –-(Ammoland.com)- The time is now New Jersey gun owners!
There is currently a petition circulating on Change.org endorsed by the New Jersey Second Amendment Society (NJ2AS).
Many of the members of the society have already signed it and we are looking for more signatures to let the New Jersey State Politicians know that we are not going to take our rights being stifled laying down.
The President of the NJ2AS, Frank Fiamingo, has been endorsing these bills through the NJ2AS website.
A-1384/S-69 which will establish "shall-issue" concealed carry permits for New Jersey's law abiding citizens. It is time to modify New Jersey's gun laws which are exceedingly strict and aggressive towards law-abiding gun owners. Frank would like to get 10,000 signatures on the petition. Thus far there are over 6,000 and I would like to see this article help to put it over the top the goal. Let us not lose the focus on our goal.
Find the petition here to sign it: https://www.change.org/petitions/new-jersey-right-to-carry
The petition letter states:
"The "Citizens' Protection Act" revises and simplifies the procedures for securing a permit to carry a handgun in the State of New Jersey.

Under the provisions of the bill, an applicant for a permit to carry a handgun would be entitled to that permit so long as he can demonstrate competence with a firearm and is not statutorily disqualified. To demonstrate that competence, the applicant would be required to include, as part of his application for the permit, copy indicating his successful completion of a firearms safety or training course or class offered by a law enforcement agency, an educational institution, the military, or the National Rifle Association. An applicant who holds a permit to carry is deemed competent and need not submit such evidence.

Among the disqualifications set forth in the bill are the statutory disabilities which currently prohibit an individual from obtaining either a permit to purchase a handgun or a firearms purchaser identification card: A crime involving controlled substances; a condition involving chronic and habitual alcoholic or drug abuse; or some other physical or mental condition or disease which would make it unsafe for the individual to obtain a permit to carry a handgun.

The bill also extends the term during which a permit to carry remains valid. At present, a permit to carry remains valid for two years; under this bill, a permit would be valid for five years.
Finally, the bill deletes subsection b. of N.J.S.2C:39-2 which provided that with regard to any firearm permit or license, an individual was deemed to be in violation of the law "until he establishes the contrary." This approach is inconsistent with traditional American legal jurisprudence of "innocent until proven guilty" and, therefore, should be removed from the law.
In its current form, the law governing the issuance of permits to carry a handgun requires an applicant to demonstrate to the Superior Court a "justifiable need" in order to obtain such a permit.
The court's interpretation of what constitutes a "justifiable need" makes it virtually impossible for citizens of New Jersey to obtain permits to carry.
The Second Amendment Foundation and New Jersey Rifle & Pistol Clubs are currently suing the State of New Jersey over this very language.
For the reasons stated above, and because the fundamental right to keep and bear arms is protected by the Second Amendment to the Constitution, we petition the Legislature of the State of New Jersey to pass this legislation as quickly as possible.
Our politicians need to know we are serious about taking our rights back. The forefathers wrote what they meant when they put "SHALL NOT BE INFRINGED" in the amendment. Reiterate to the politicians that they do, in fact, still answer to "WE THE PEOPLE". Tell the judges what they have been endorsing, by refusing and denying the right to carry for law abiding, New Jersey citizens that they have been going against the Constitution and trampling all over the Bill of Rights.
They need to realize they as politicians took an oath of office to uphold the ENTIRE US Constitution, not just the parts of it THEY agree with.
---
About Joe Alessandrini

Joe is a blue collar guy, active shooter, archer and Freemason, he is the typical New Jersey "Joe" Gun Owner and, just like me and you, he is frustrated with people not up holding the Constitution and walking allover the Bill Of Rights. But rather than do nothing or keep it to himself Joe is doing something about it. He is putting it writing on AmmoLand Shooting Sports News and educating or changing peoples minds and making a difference for all of us. Be sure and comment on each of his articles.