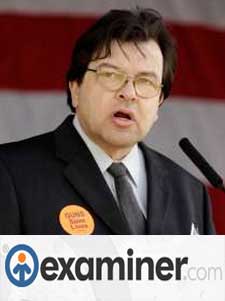 USA –-(Ammoland.com)- BIRMINGHAM, Ala. —"Doctors managed to do what the government could not—temporarily silence me," Sipsey Street Irregulars blogger Mike Vanderboegh told Gun Rights Examiner by phone this morning from the intensive care unit at Trinity Medical Center.
The War on Guns: Notes from the Resistance blog reported yesterday that Vanderboegh, the first citizen journalist to tie in the connection between Fast and Furious "walked" guns and the death of a U.S. Border Patrol agent, and a continual force in breaking new information about the ongoing story, was out of surgery, where a large gastro-intestinal stromal tumor was removed. His wife told this correspondent last night that he had a good prognosis for "full recovery."
"They'll probably keep me in IC until Sunday and the care is excellent," Vanderboegh remarked in this morning's conversation. "Everybody is doing their best and I'm impressed with the doctor.
"The pain goes back and forth," he related, saying hospital staff plans to sit him up for the first time today. The surgery required removing part of his pancreas and, part of his esophagus, and left him with 20% of his stomach, which is expected to stretch out.
Continue reading on Examiner.com http://www.examiner.com/gun-rights-in-national/blogger-vanderboegh-recovering-from-surgery
About David Codrea:
David Codrea is a long-time gun rights advocate who defiantly challenges the folly of citizen disarmament. He is a field editor for GUNS Magazine, and a blogger at The War on Guns: Notes from the Resistance. Read more at www.DavidCodrea.com.