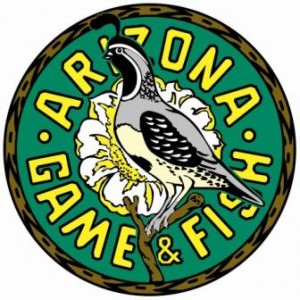 PHOENIX, AZ – -(Ammoland.com)- Outdoor enthusiasts won't want to miss the Arizona Game and Fish Department Outdoor Expo form 9 a.m. to 5 p.m. on Saturday, March 31, and from 9 a.m. to 4 p.m. on Sunday, April 1, at the Ben Avery Shooting Facility in Phoenix. Admission and parking are FREE.
The family-friendly Expo offers loads of activities, exhibits and presentations for people of all ages and skill levels, from novices to seasoned outdoor recreationists.
All of the favorite attractions and activities from Expos in previous years will be offered. There will be live wildlife exhibits featuring hawks, reptiles, and small mammals, huge catch-and-release fishing tanks for kids, target archery, camping demos, the opportunity to try out target shooting on the range, rock crawler demonstrations, field courses, presentations on hunting, fishing, archery and wildlife. There will also be more than 150 exhibitors, including outdoor organizations, government agencies, and vendors of outdoor products and services.
Among the new attractions at this year's Expo is the Jeep test-drive on a short dirt driving course, sponsored by Airpark Dodge/Ram/Chrysler Jeep.
An expanded boat show will display boats of all kinds, including pontoons, sport boats, fishing boats, cruisers, wakeboard boats, and more. New and used boats will be available for sale by several dealers.
The Arizona Cowboy Mounted Shooters Association will have two full days of exciting competition at the Royce W. Anderson Family Arena on the Expo grounds. Don't miss the grand entrance of riders at approximately 11 a.m. on Saturday and Sunday.
Be sure to catch the shooting and archery demos. Exhibition shooter Tim Bradley will put on an amazing display of clay target shooting at 11 a.m. and 2 p.m. each day. Randy Ulmer, a member of the National Bowhunters Hall of Fame, will periodically conduct archery demonstrations both days. The Arizona Cowboy Shooters Association will also conduct fast-draw demos throughout both days of the Expo.
Off-highway vehicle enthusiasts will be able to see exciting rock crawler demos. Game and Fish will display and offer demos of its new ATV simulator. Pick up information featuring places to ride, OHV laws, and how to ride responsibly while protecting wildlife habitat.
Kids are invited to get some hands-on experience at the youth fishing tanks, sponsored by the U.S. Fish and Wildlife Service, in the Family Adventure Area. Experienced and novice anglers can see casting techniques and pick up tips from local experts at the Demo Fishing Tank in the Main Area, where demos will be held every hour on the hour. There will also be demos on bow fishing in Cabela's Archery Village.
Hunters can pick up tips from experts, attend presentations on hunting, or visit with representatives of the many sportsmen's and conservation organizations that will be on site.
There will be a full schedule of outdoor talks in the Family Adventure Area. Presentations include topics such as Arizona's venomous reptiles, raptors of Arizona, jackrabbit hunting, how to fillet a fish, easy ways for archers to improve their shot, hunting using horses, and the department's Operation Game Thief program. For a list of talks and times, check out the event program at www.azgfd.gov/expo.
Try out a variety of firearms, including Glock, Ruger, Smith & Wesson, Beretta, Savage and ATI. Get a feel for different forms of specialty shooting, such as cowboy action, black powder, practical pistol, and steel target shooting, with local shooting groups. Get a feel for clay target shooting and try out shotguns from Benelli, Remington and Beretta. There is a nominal fee for ammunition at most of the shooting venues.
Be sure to drop by Cabela's Campsite for displays of the latest gear or to play outdoor games, and visit the Optics Tent to check out the latest in binoculars and spotting scopes.
Expo admission and parking are free, but consider bringing a little cash to purchase food and beverages from concessionaires at the expo. There will also be vendors on site offering out-door products for sale.
Gold sponsors of the Arizona Game and Fish Department Outdoor Expo are Cabela's and Airpark Dodge/Ram/Chrysler/Jeep.
The Ben Avery Shooting Facility is located at 4044 W. Black Canyon Blvd. in Phoenix (located on Carefree Highway, about 1/2 mile west of Interstate 17 – just follow the signs).
The Arizona Game and Fish Department is operated on a "user pay, user benefit" business model. The Outdoor Expo promotes wildlife-related and other outdoor activities to the public, which supports the department's mission and funding through their engagement in those activities. The department receives no Arizona tax dollars, and no tax dollars are used in conducting the Expo. For more information, visit www.azgfd.gov/expo.