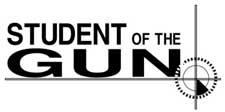 LUVERNE, AL –-(Ammoland.com)- This week on Student of the Gun we will consider both lethal and less-than-lethal force tools for personal defense.
Paul will examine the effectiveness of the home defense shotgun and test the spread of 00 buckshot at realistic distances.
In the less-than-lethal category we will consider the modern TASER electronic subject control device and separate fact from fiction.
Contrary to what Hollywood would have you believe, the TASER and stun gun are not the same and they don't render the bad guys unconscious.
During Straight Shooting with Max Michel we'll talk about your grip and draw-stroke. Then we'll take a close look how to effectively operate the AR-style rifle during our Running the Gun segment. Student of the Gun airs every Sunday, Monday, and Thursday on the Sportsman Channel. Please check your local service provider for dates and times.
www.studentofthegun.com
www.thesportsmanchannel.com
Follow Paul Markel at Student of the Gun.com and PaulMarkel.com. Look for Paul's new eBook"Student of the Gun; A beginner once, student for life." On sale now at BN.com andSmashword.com